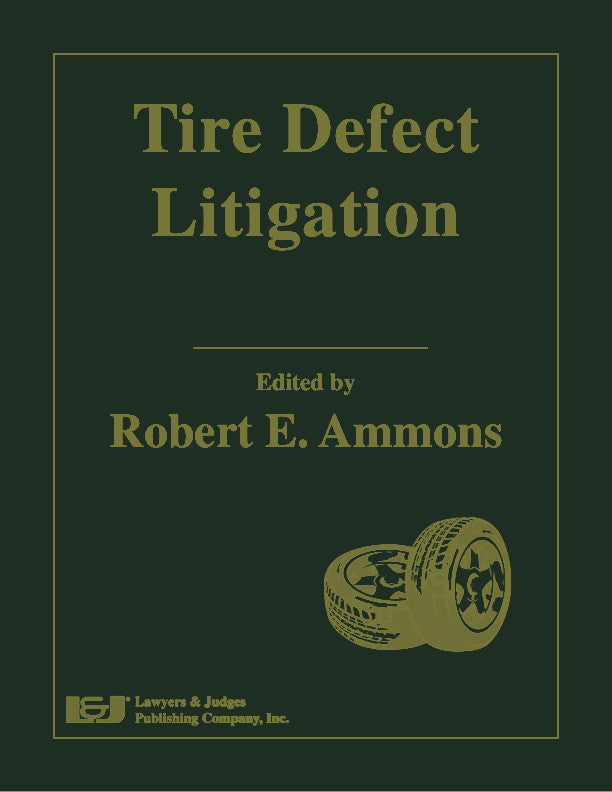 ---
Editor: Robert E. Ammons; Contributors: Robert E. Ammons, Stephen M. Arndt, Dennis Carlson, Troy Cottles, Bruce A. Currie, Sean Kane, Paul Maurer, David Osborne, Don C. Stevens, William J. Woehrle
ISBN 10: 1-936360-21-7
ISBN 13: 978-1-936360-21-5
Copyright Date Ed: January 20, 2016
Pages: 256
Binding Information: Casebound
Size: 8.5 ✕ 11 Inches (US)
For the uninitiated, tire litigation can be daunting. Tire cases require special technical knowledge on tire construction, material science, and vehicle dynamics. And tire companies can be formidable opponents. Typically, the manufacturer's first defense is to blame the consumer, attributing tire-related crashes to driver error or improper maintenance. Those claims surface in almost every case. The tire industry's second tactic is to obfuscate and to hide relevant data and documents. A tire company may manufacture hundreds of separate tire models—each with different specifications—which it uses in litigation to isolate each individual case and claim it is unique, thereby preventing plaintiffs from using discovery from other lawsuits involving similar tires simply because those tires may have different names on their sidewalls and come in different sizes.
Often, attorneys are unaware they have a case against a tire manufacturer. They simply look to the available insurance, collect it, and the case is done. In too many instances, the insurance policies come nowhere close to adequate compensation for someone who has lost a loved one or who has been catastrophically injured. Robert E. Ammons has  litigated scores of tire defect cases against industry giants for twenty years. This book includes many of the practical lessons he has learned, plus chapters written by renowned experts that provide technical information that is relevant in tire defect litigation.
The book begins with the basics of tire construction. While the first automobile tires appeared in 1895, the steel belted radial tire is a relatively recent development. To give tire defects greater context, this book offers a primer on tires, inside and out, from the construction and assembly of a steel belted radial tire to the markings on the sidewalls. This book focuses on the elements of tire failures and the interplay among tire components that lead to tread and belt separations—the primary defect with steel belted radial construction. Using photographs and examples, this book helps you identify the type of failure mode—an essential element in any tire defect case. The book also guides the tire litigator through the regulatory landscape surrounding passenger and light truck tires. Tire regulation rulemaking provides important insights into manufacturers' positions on safety issues. Any lawyer with a tread separation case needs an understanding of the regulatory scheme—its history and the implications for litigation.
The later chapters take you step-by-step through a tire case, from how to determine if you have a viable case, to preserving the evidence and then choosing the right experts. It explores tire service issues, such as placement and inspections and the liability of tire service centers. Another chapter focuses on the relationship between the vehicle—passenger cars, SUVs, light and heavy trucks, and motor homes—and the tire in a failure case. The nuts and bolts of prosecuting your tire case are covered, such as identifying defendants, writing the complaint, conducting discovery, finding Other Similar Incidents (OSI), and working through and under protective orders. The book is intended to help you develop litigation theories and prepare you to meet manufacturers' common defenses.
While taking on a tire manufacturer for a deserving client involves a huge commitment of time and resources, it is emotionally rewarding work. This book gives you a grounding in every aspect of tire litigation, and it will serve as a starting point for your journey into tire defect litigation.
Chapters Include
Chapter 1: Understanding a Tire's Marks and Components by Robert E. Ammons
Chapter 2: How a Tire is Made by Bruce A. Currie
Chapter 3: Steel Belted Radial Ply Tire Fatigue Endurance: A History of Improvements in Performance and Evaluations by William J. Woehrle
Chapter 4: The Danger of Aging Tires by Robert E. Ammons and Sean Kane
Chapter 5: The Federal Government and Tire Litigation by Sean Kane
Chapter 6: Case Screening by Robert E. Ammons
Chapter 7: Starting to Prosecute a Tire Defect Case by Robert E. Ammons
Chapter 8: Discovery and Case Development by Robert E. Ammons
Chapter 9: Tire Retailer and Service Center Liability by Robert E. Ammons
Chapter 10: Creating and Using Exhibits in Tire Litigation by Robert E. Ammons and Paul Maurer
Chapter 11: Expert Witnesses by Robert E. Ammons
Chapter 12: The Importance of Accident Reconstruction in Tire Litigation by Don C. Stevens
Chapter 13: Vehicle Dynamics and Testing in Tread Separation Cases by Stephen M. Arndt
Chapter 14: Tire Impact Testing by Dennis Carlson, P.E.
Chapter 15: Manufacturing Defects in Steel-Belted Radial Tires by Troy Cottles
Chapter 16: Nondestructive Testing in Tire Cases by Paul Maurer
Chapter 17: The Role of the Nylon Cap Ply in Tire Durability by David Osborne
Chapter 18: Tubeless Tires and Inner Liners by David Osborne
Chapter 19: Tire Repair and Procedures by Paul Maurer
Chapter 20: Evaluation of Compression Rim Grooves Using an Objective Measurement Technique by Troy Cottles
Appendix A: Sample Pleadings in a Tire Case
Appendix B: Sample Discovery Requests
Appendix C: Categories and Types of Documents to Request in Tire Litigation
Appendix D: Protective Order Checklist
Appendix E: Sample Cover Letter and Plaintiff's Proposed Protective Order
Appendix F: Sample of a Restrictive Protective Order Proposed by a Tire Manufacturer
Appendix G: Sample Tire Inspection Letter Agreement
Appendix H: Sample Topics for Corporate Representative Deposition Notices
Appendix I: Tire Demount Protocol
Appendix J: Internet Resources
Appendix K: Abbreviations and Acronyms
Appendix L: Glossary of Tire Litigation Terms
Table of Contents
Dedication
Acknowledgments
Contents
Introduction
Chapter 1: Understanding a Tire's Marks and Components
Robert E. Ammons
1.1 Introduction to a Radial Tire's Markings and Components
1.2 How to Read a Tire's Sidewall
1.3 Deciphering a Tire's DOT Number
Endnotes
Chapter 2: How a Tire is Made
Bruce A. Currie
2.1 Tire Manufacturing Process
2.2 Raw Materials
2.3 Compounding and Mixing the Rubber
2.4 Preparing the Components
2.5 Calendering
2.6 Inner Liner Calendering
2.7 Tire Bead Preparation
2.8 Tire Tread, Sidewall and Other Component Extrusion
2.9 Tire Tread Extrusion
2.10 Tire Sidewall and Other Component Extrusion
2.11 Building the Tire
2.12 Curing the Tire
2.13 Final Finish
Endnotes
Chapter 3: Steel Belted Radial Ply Tire Fatigue Endurance: A History of Improvements in Performance and Evaluations
William J. Woehrle
3.1 An Introduction to the Mechanics of a Belt Separation Failure
3.2 Tire Durability Interpretations and Expectations
3.3 Understanding Tire Failures
3.4 A Chronology of Protections and Remedies for Fatigue Failures
3.5 Meeting the Need for an Effective Test
Endnotes
References
Chapter 4: The Danger of Aging Tires
Robert E. Ammons and Sean Kane
4.1 Introduction
4.2 Alleging and Proving the Failure to Warn
4.3 Tire Age at the Retail Level
4.4 Tire Manufacturers and Tire Age
4.5 Tire Age and Vehicle Manufacturers
4.6 Ford's and NHTSA's Tire Age Research
4.7 Tire Age Rulemaking
Endnotes
Chapter 5: The Federal Government and Tire Litigation
Sean Kane
5.1 Rulemaking
5.2 Federal Standards Covering Tires
5.3 Tire Aging
5.4 Tire Identification and Recall Regulations
5.5 Government Research and Reports
A. Research Report to Congress on Tire Aging
B. The Pneumatic Tire
C. An Evaluation of Existing Tire Pressure Monitoring Systems 2001
D. TIRE AGING: A Summary of NHTSA's Work
5.6 Defect Investigations and Recalls
A. The Firestone 500
B. Firestone ATX/Wilderness
C. Goodyear Load Range E
D. Foreign Tire Sales/Hongzhou
Endnotes
Chapter 6: Case Screening
Robert E. Ammons
6.1 Is the Case Economically Viable?
6.2 Investigation of the Merits
6.3 The Client Interview
6.4 Getting Custody of Your Evidence
6.5 The Initial Inspection
6.6 The Forensic Examination of the Tire
6.7 The Service History
6.8 The Manufacturer's First Defenses
A. The Phantom Impact Defense
B. The Overdeflection Defense
C. The Tire Repair Defense
D. The Seat Belt Defense
E. The Blame the Driver Defense
6.9 Find Out if Your Tire Model Has a Troubled History
6.10 Deciding Whether to Move Forward
Endnotes
Chapter 7: Starting to Prosecute a Tire Defect Case
Robert E. Ammons
7.1 Identifying Defendants
A. The Vehicle Manufacturer
B. The Service Center and Retailer
C. The Driver
D. The Vehicle Owner
7.2 Pre-Litigation Negotiation Considerations
7.3 Litigation Theories
A. Common Defect Allegations in a Tread Separation Case
1. Design defect claims
2. Manufacturing defect claims
3. Failure to warn claims
B. Third-Party Allegations: Retailers and Service Centers
C. Understanding the Manufacturer's Common Defense Contentions
1. Phantom Impacts
2. Overdeflection
3. Repairs
4. Improper Tire or Rim Size and Mixed Sets
5. Driver Reaction
7.4 Conclusion
Endnotes
Chapter 8: Discovery and Case Development
Robert E. Ammons
8.1 Introduction
8.2 Discovery Schedule and Trial Setting Considerations
8.3 Common Discovery Issues
A. Protective Orders
B. Tire and Evidence Inspections & Protocols
C. Tire Manufacturing Plant Inspections
8.4 Written Discovery
A. Interrogatories
B. Requests for Production of Documents
1. Design certification file
2. Safer alternative designs
3. Adjustment data
4. Other similar incident (OSI) information
5. Quality control materials
6. Marketing and advertising materials
C. Requests for Admission
8.5 Depositions
8.6 Other Sources of Information
8.7 Conclusion
Endnotes
Chapter 9: Tire Retailer and Service Center Liability
Robert E. Ammons
9.1 Introduction
9.2 Establish Corporate Policies
9.3 Potential Areas of Liability
A. Tire Age
B. Improper Placement
C. Improper Repairs
D. Recalled Tires
E. Used Tires
9.4 Countering the Retailer's Defenses
Endnotes
Chapter 10: Creating and Using Exhibits in Tire Litigation
Robert E. Ammons and Paul Maurer
10.1 Introduction
10.2 Examples of Types of Tire Exhibits
A. Annotated Photographs
B. Annotated X-rays and Shearography
C. Data Sets and Related Illustrations (Charts, Graphs, Tables, etc.)
D. Animations
E. Cut Tire Analysis
F. Tire "Cutaways" or "Cutbacks"
G. Exemplar Tires
10.3 Special Considerations in Creating Tire Exhibits
Endnotes
Chapter 11: Expert Witnesses
Robert E. Ammons
11.1 Why You Need an Expert
11.2 What Your Expert Needs
A. Tire Failure Analysis ("Defect") Expert
B. Accident Reconstruction Expert
C. Vehicle Dynamics Expert
D. Tire Retail and Tire Service Industry Expert
E. Other Types of Experts to Consider
11.3 Clearing the Daubert Hurdle
A. Define Duties and Plan Ahead
B. Do Your Homework
C. Get Your Expert Involved
11.4 Conclusion
Chapter 12: The Importance of Accident Reconstruction in Tire Litigation
Don C. Stevens
12.1 Introduction
12.2 Do You Need an Accident Reconstruction for Your Case?
12.3 Can't I Just Rely on the Police Investigation?
12.4 Preserve and Document Case Evidence Before Hiring Experts
A. Accident Vehicles
B. Accident Scenes
12.5 What to Expect from an Accident Reconstruction
A. Speed Analysis for Rollover Accidents
1. Speed at trip
2. Speed at rollover initiation
3. Steer-induced rollover
4. Tire marks leading to collision
5. Speed at start of tire disablement
B. Special Considerations During Tread Separation Events
1. Tread separation drag
2. Tread separation road friction coefficient
C. Detailed Analysis of Impacts During a Rollover
1. Number of rolls
2. Displacement of material within rollover damage
3. Impact locations along roll path
12.6 Conclusion
Endnotes
Chapter 13: Vehicle Dynamics and Testing in Tread Separation Cases
Stephen M. Arndt
13.1 Introduction
13.2 Tire Disablements
13.3 The Effects of a Tire Tread Detachment on a Vehicle's Handling Characteristics
A. Complete and Partial Tread Separations
B. Environmental Effects
C. Vehicle Design
13.4 Common Claims Regarding the Loss of Control
A. The Driver Ignored Telltale Signs of the Imminent Tire Failure.
B. The Driver Over Reacted and Steered the Vehicle Too Much.
C. The Driver Slammed on the Brakes Leading to Loss of Control.
D. The Vehicle was Poorly Maintained Leading to Bad Handling.
E. The Vehicle was Improperly Loaded Leading to Bad Handling.
13.5 Driver Training and Experience
Endnotes
Chapter 14: Tire Impact Testing
Dennis Carlson, P.E.
14.1 Background of Typical Tire Manufacturer Defenses
14.2 Road Hazard Impacts
14.3 Prior Road Hazard Impact Defense
14.4 Negating the Road Hazard Impact Defense
14.5 Carlson-Woehrle Paper
14.6 Conclusion
Endnotes
Chapter 15: Manufacturing Defects in Steel-Belted Radial Tires
Troy Cottles
15.1 Introduction
15.2 Trapped Air
15.3 Liner Pattern Marks
15.4 Porosity
15.5 Premature Oxidative Degradation
15.6 Cracked Inner Liner Splices
15.7 Steel Belt Defects
15.8 Contamination and Foreign Materials
15.9 Conclusion
Chapter 16: Nondestructive Testing in Tire Cases
Paul Maurer
16.1 Introduction
16.2 Tire Manufacturing Process Background
16.3 Why X-Ray Failed Tires?
16.4 Types of X-Ray Equipment
16.5 Film vs. Digital
16.6 X-Raying Companion Tires
16.7 Other Types of Tire NDT
16.8 Why Do Tire Shearography?
16.9 Tire Shearography and Destructive Testing
16.10 The Relationship Between Tire X-Radiography and Tire Shearography
16.11 Conclusion
Endnotes
Chapter 17: The Role of the Nylon Cap Ply in Tire Durability
David Osborne
17.1 Introduction
17.2 Radial Tire Construction
17.3 The Problems
A. Stresses Caused By Tire Inflation
B. Stresses From Vehicle Load and Centrifugal Load
C. Shearing and Tearing at the Cut Steel Edges
D. Shearing of the Rubber Between the Steel Belts
17.4 The Solutions
A. Belt Step
B. Shoulder Insert
C. Belt Wedge and Inter-Belt Gauge
D. Cap Plies
17.5 Conclusion
Endnotes
Chapter 18: Tubeless Tires and Inner Liners
David Osborne
18.1 Introduction and Background
18.2 Developing Butyl and Halobutyl Rubber Compounds
18.3 The Permeability Problem with Halobutyl Rubber
18.4 Measuring Permeability
18.5 Conclusion
Endnotes
Chapter 19: Tire Repair and Procedures
Paul Maurer
19.1 Introduction to Tire Repair and Procedures
19.2 Patch Repairs
19.3 String Plug Repairs
19.4 The Approved RMA Method of Repairing Tires: Plug and Patch Method
19.5 The "Repairable Region" of a Tire
19.6 Permissible Amount of Repairs in a Tire
19.7 Aerosol Puncture Sealing Products
19.8 Medium Truck Tire Repairs
19.9 Conclusion
Endnotes
Chapter 20: Evaluation of Compression Rim Grooves Using an Objective Measurement Technique
Troy Cottles
Appendix A: Sample Pleadings in a Tire Case
Appendix B: Sample Discovery Requests
Appendix C: Categories and Types of Documents to Request in Tire Litigation
Appendix D: Protective Order Checklist
Appendix E: Sample Cover Letter and Plaintiff's Proposed Protective Order
Appendix F: Sample of a Restrictive Protective Order Proposed by a Tire Manufacturer
Appendix G: Sample Tire Inspection Letter Agreement
Appendix H: Sample Topics for Corporate Representative Deposition Notices
Appendix I: Tire Demount Protocol
Appendix J: Internet Resources
Appendix K: Abbreviations and Acronyms
Appendix L: Glossary of Tire Litigation Terms
About the Contributors
Index
---
Share this Product
---
More from this collection