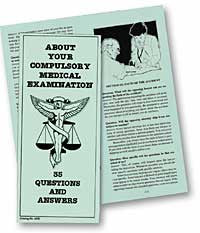 About Your Compulsory Medical Examination: 35 Questions and Answers
---
Do you want to be certain your client knows what do to when he or she has to undergo a compulsory medical examination? Is your client nervous, or unsure of what to expect? This handy booklet from Lawyers & Judges will help allay their concerns and yours.
Sold in packaged units. Qty.1 = Ten booklets per package.
Questions include: Why is a CME performed? Who will perform it, and where? Can I refuse the examination? What should I do after the examination? Who pays for the examination?
Single copies are also available as an E-book. Click here to purchase and download:
---
Share this Product
---
More from this collection