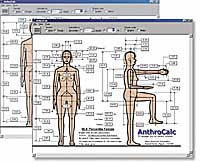 ---
In the forensic analysis of accidents and injuries, it is sometimes necessary to reconstruct certain aspects of an event to determine its cause.
AnthroCalc will help you evaluate the fit of the human subject within the accident environment. This innovative program will save you hours of time at your calculator.
With a few simple clicks you can have all the information you need. All you have to know is the height and sex of your subject and you will have measurements of arms, legs, reach, etc. You can also enter just the percentile data of your subject and the software will generate the corresponding anthropometry measurements.
The AnthroCalc software is designed to furnish the user with accurate anthropomorphic data for adult males and females between the ages of twenty and sixty-five years, for the first to the ninety-ninth percentile of this population. It displays the majority of body measurement values for adult humans statistically derived from the tabulated data. This is a real time-saver. Add it to your software library today!
Note: CD-ROM is compatible with Windows 95, ME, NT and XP only. It is NOT compatible with Windows Vista at this time. It performs best with a minimum of 32MB RAM.
---
Share this Product