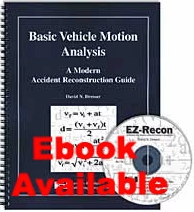 Basic Vehicle Motion Analysis
---
This book is available as a Kindle E-book. Click here to purchase and download:
Author:

 

David N. Dresser
ISBN 10:

 

1-930056-17-6

ISBN 13:

 

978-1-930056-17-6
Copyright Date Ed:  May 23, 2011
Pages:

 

462 pages
Binding Information:

 

Kindle e-book
This text details the 180 most common equations that accident reconstructionists use in their field.
This book gives you the basic vocabulary that you need, as well as examples with each equation. Would you like to know how to convert the length of a skid mark into driving speed? It takes almost no time. Would you like to measure acceleration and deceleration in terms of time and distance? No problem!
This text provides the reader with the necessary tools to answer common precollision vehicle motion analysis questions, including: If a vehicle is traveling at 57 miles per hour on a dry concrete roadway surface, how much distance will it cover as it brakes to a stop? If a vehicle traveling at 63 miles per hour leaves 38 feet of skid marks before it collides with a pedestrian, what is its speed at impact? If a vehicle moves across an intersection after stopping at a stop sign, how long will it take the vehicle to clear the intersection?
These are just a few examples of the questions that arise during basic traffic accident reconstruction. This text makes answering these questions and more as simple as using a four-function desk calculator.
---
Share this Product