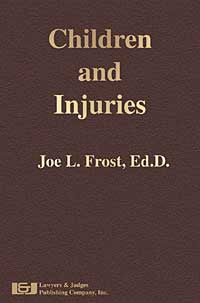 ---
Author: Joe L. Frost
ISBN 10: 0-913875-96-1
ISBN 13: 978-0-913875-96-4
Copyright Date Ed:  September 7, 2001
Pages: 608 pages
Binding Information: Casebound
Size: 6 ✕ 9 Inches (US)
The one-stop reference for child injuries in litigation.
This book is packed with everything you need to know about child injuries. Injuries occur with car seats, cribs, toys, playground equipment and more. Was the manufacturer at fault for not properly labeling its toys? Was the playground equipment properly installed--at the park or in the child's backyard--with the proper surface underneath? Did the manufacturer anticipate the ways in which their products would be used? A great many factors influence a child's injury, and some children's injuries are preventable.
If you are a lawyer, a childcare provider, an insurance investigator, a member of the police, or even a parent, this book will open your eyes to many issues of safety that often go unnoticed.
Case examples and news stories illustrate the unnoticed hazards throughout a home, school, or other parts of a child's daily routine, and how those hazards finally caused injury. Learn about these potential hazards, and how to deal with them. You'll learn about the standards for labeling products, installing equipment, and the role of self-regulation and government regulation in these standards. You'll be introduced to the agencies which set the standards that protect our children. You'll be shown the pertinent laws and case studies that deal with the issues presented in this book.
Each chapter is a well-rounded discussion of its topic, and you'll want this information in any litigation involving children and injuries. Beyond this, you'll learn from economists how earning capacity and damages can be calculated for a child who has been permanently impaired. They explain the factors that they consider when presented with an injured child's future earnings. You'll learn how this can affect the rest of the family financially, and how one can litigate the case to recover some of the sustained damages.
If your case work deals with injured children in any capacity, you should own this important reference.
This book is also available as an eBook. Click here to purchase and download:
TOPICS INCLUDE
Child development and injuries
Scope and nature of child injuries
Medical and biomechanical aspects of childhood injuries
Safety guidelines, standards, and codes for accident prevention
Children and injuries in the home
Children and classroom injuries
Children and injuries in organized sports
Children and playground injuries
Children and water injuries
Hazardous playthings causing injuries to children
Children and traffic accidents
Children and injuries in public places
Evaluating financial loss in child injuries and fatalities
Preparing and conducting litigation in child injuries
Table of Contents:
Chapter 1: Child Development and Injuries
1.1 Introduction
1.2 Infants and Toddlers
1.3 Preschoolers
1.4 School-Age Children
1.5 Adolescence
1.6 The Roles of Adults in Children's Safety
1.7 Conclusion
Chapter 2: History, Nature and Scope of Child Injuries.
2.1 History
2.2 Active Agencies
2.3 Nature and Scope of Injuries
2.4 Hidden Trends and Gaps
2.5 Summary
Chapter 3: Medical and Biomechanical Aspects of Childhood Injuries

Part I: Injury by Body Region
3.1 Head Injury
3.2 Spinal Injury
3.3 Airway Obstruction
3.4 Chest Injury
3.5 The Skin: Burns
3.6 Abdominal Injury
3.7 Extremities: Fractures and reflex sympathetic dystrophy

Part II: Injury by Type of Trauma
3.8 Child Abuse
3.9 Drug Abuse
3.10 Electrical Injury
3.11 Firearm-Related Injuries
3.12 Microwave Injury
3.13 Sports
3.14 Toys
Appendix
Chapter 4: Standards, Regulations and Safety Guidelines to Protect Children from Injury
4.1 Introduction
4.2 The Beginning of Regulations
4.3 Section 15--Substantial Product Hazards
4.4 Elements of a Recall
4.5 Recalls of Children's Products
4.6 Regulations, Standards and Product Liability Litigation
Chapter 5: Children and Injuries in the Home
5.1 Analysis of Injuries and Recommendations for Injury Prevention
A. Nursery or bedroom
B. Kitchen
C. Bathroom
D. Living areas
E. Garage
5.2 Evaluating the Safety of Consumer Products
Chapter 6: Childhood and Classroom Injuries
6.1 Introduction
6.2 Child Care Licensing Regulations
6.3 Risk Associations and Management
6.4 Physical, Social, Cognitive and Other Factors as Contributing Elements
6.5 Building and Classroom Settings
6.6 Risk Management: Principles and Practices
6.7 Early Education Teachers and Liability
6.8 Concluding Remarks
Chapter 7: Injuries in Organized Sports for Children and Adolescents
7.1 Introduction
7.2 Organized Youth Sports in the United States
7.3 Universal Tasks of Childhood and Adolescence
7.4 Benefits and Risks Associated with Participation in Organized Sports
7.6 Injuries in Youth Sports
7.7 Sudden Deaths in Young Athletes
7.8 Risk Factors for Injury
7.9 Overview and Recommendations
Chapter 8: Children and Playground Injuries
8.1 Introduction
8. 2 Overview of Playground Injuries
8.3 Contributing Factors to Injuries
8.4 Prevention Techniques
8.5 Conclusion
Appendix A: America's Playgrounds Safety Report Card
Appendix B: Playground Safety Recommended Resources
Chapter 9: Cause and Prevention of Playground Injuries and Litigation: Case Studies
9.1 States
9.2 Nature of Injuries
9.3 Cause of Injuries and Fatalities
9.4 Equipment Involved in Injuries
9.5 Location of Injuries
9.6 Ages and Sex of Children
9.7 CPSC/ASTM Violations
9.8 Disposition of Litigation
9.9 Conclusions
9.10 Recommendations
Chapter 10: Children and Water Injuries
10.1 Introduction
10.2 Results of Court Decisions
10.3 Evaluating Safety in Pools, Streams, Lakes, and Ponds
10.4 Preventing Child Water Incidents
10.5 Safety Standards, Regulations, Codes, and Guidelines
10.6 Preparing and Conducting Litigation in Water Incidents
10.7 Identification and Use of Experts in Water Incidents
Chapter 11: Hazardous Playthings Causing Injury to Children
11.1 Children: the Ultimate "Captive Consumers"
11.2 Defining a Child's Plaything
11.3 Illustrative Cases
11.4 Safety First
11.5 Myth versus Fact
11.6 Checklist: Investigation of Injuries Related to a Child's Plaything
11.7 Injuries Caused by Defective Playthings
11.8 Must Accidents Happen?
11.9 Common Ingredients and Solutions for Injuries Stemming from Defective Playthings
Chapter 12: Children and Traffic Injuries
12.1 Motor Vehicle Injury
12.2 Children as Pedestrians
12.3 Motorized Recreational Vehicles
12.4 Bicycle Injuries
Chapter 13: Children and Injuries in Public Places
13.1 Introduction
A. Injuries in public places
B. Common factors in child injuries in public places
13.2 Amusement Parks and Carnivals
13.3 Water Parks
13.4 Go-Cart Tracks
13.5 Malls, Shopping Centers and Grocery Stores
13.6 Risk and Risk Management in Public Places
13.7 Litigation Issues
13.8 Summary
Chapter 14: Evaluating Child Loss in Child Injuries and Fatalities: Roles of a Economic Expert
14.1 Introduction
14.2 Damages Standards in a Typical Personal Injury to a Child
14.3 Damages Standards for the Wrongful Death of a Child
14.4 Remaining Issues
14.5 Jack Ward's Sample Letter to a Client for a Wrongful Death Case
Chapter 15: Preparing and Conducting Litigation in Child Injury Cases
15.1 Unique Proof Issues in Child Injury Cases
15.2 Special Types of Proofs in Child Injury Cases
15.3 Gathering and Preserving the Evidence
15.4 The Discovery Process During Litigation
15.5 Types of Experts to Consider in Serious Injury Cases and the Use of Demonstrative Evidence
15.6 Use of Expert in Proof of Pecuniary Damages
15.7 Proving Nonpecuniary Damages of the Child and His Family
15.8 Presentation of the Theory of the Case, Jury Charges and Jury Consulting, the Need for Early Consideration
15.9 Coordination of Experts
15.10 Motions in limine
15.11 The Opening and Closing, the Development and Refinement
15.12 Conclusion
Appendices
Appendix A: General Resources and References
Appendix B: Hospital Emergency Room Treated Injuries
Appendix C: Playground Rating System
---
Share this Product
---
More from this collection