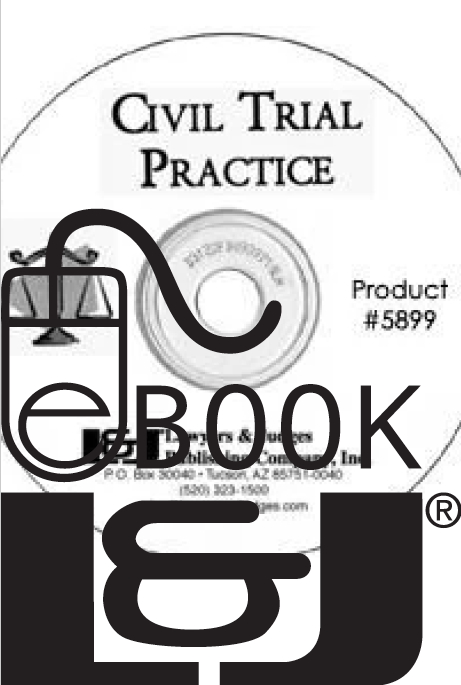 Civil Trial Practice: Winning Techniques PDF eBook
---
The best trial lawyers share their secrets for the 21st century.
Wish you could get some inside tips from the best? Inner circle members. Former national association presidents. Past presidents of state bar associations and trial lawyer associations. Now for the first time, this book gives you a privileged glimpse into the minds of the best trial lawyers in the country. In today's market place, you know you need to distinguish yourself from the pack.
This book offers a wealth of practical tips and shrewd observations about being a successful trial attorney from the best of the best. Get the competitive edge and save valuable time by reading the techniques of distinguished litigators gleaned from years of hands-on experience! Learn from the elite fraternity of America's best trial lawyers!
Table of Contents
Table of Contents

Foreword
Dedication
Preface
Part One: General Aspects of Trial Practice
Chapter 1
Ten Ways to Avoid Malpractice
Patricia A. Essoff
Chapter 2
Peak Performance in Litigation through Relaxation Techniques
Gary Gwilliam
Chapter 3
Trial Notebooks, Big Chief Tablets, and Other High-tech Methods of Trial Preparation
Dicky Grigg
Chapter 4
The Entanglement of Media and Litigation: How to Successfully Navigate Under the
Model Rules
Donald J. Nolan
Chapter 5
Effective Use of Consulting Counsel
Mark H. Goodrich
Chapter 6
Law Office Technology in the 21st Century
Donald H. Slavik
Part Two: Discovery
Chapter 7
Win Through Discovery
Marc S. Moller
Chapter 8
Discovery—Winning Approaches from a Defendant's Perspective
William L. Maynard
Chapter 9
The Freedom of Information Act: Its Application and Use
J.D. Johnson
Chapter 10
Safety—The Name of the Place Where Liability Hangs Out
M.P. Papadakis
Part Three: Jury Selection
Chapter 11
Voir Dire
John Howie
Chapter 12
Voir Dire: Discovering the Tainted Juror
Gilbert T. Adams, Jr.
Chapter 13
Expanding Jury Selection
Broadus A. Spivey
Part Four: The Trial Process
Chapter 14
Psychology of Trial Presentation
Lisa A. Blue
Chapter 15
Trial Presentations—My Way
Daniel C. Cathcart
Chapter 16
Opening Statement in a Product Liability Trial
Robert G. Begam
Chapter 17
Speed, Speed, Speed
Howard M. Acosta
Chapter 18
Final Argument
Wayne Fisher
Part Five: Witnesses
Chapter 19
Preparing Clients to Testify
Robert Ware Killorin
Chapter 20
Cross-Examination of Expert Witnesses
Bob Gibbins
Chapter 21
Cross-Examination of the Hostile Witness
Rockne W. Onstad
Chapter 22
Dealing with Pandora: "Eggshell" and Other Special Witnesses
Michael W. Perrin
Part Six: Evidence and the Record
Chapter 23
Creating and Protecting the Record on Appeal
Philip H. Corboy
Chapter 24
An Inexpensive Approach to Demonstrative Evidence
Vincent J. Bartolotta, Jr. and James B. Drimmer
Chapter 25
Demonstrative Evidence
Frank L. Branson
Chapter 26
Scientific Evidence Since Daubert: A Plaintiff's Perspective
Michael L. Slack
Chapter 27
Spoliation of Evidence
Russ M. Herman and Steve Herman
Part Seven: Damages
Chapter 28
Damages
Scott S. Segal
Chapter 29
Proving Punitive Damages
T. English McCutchen, III
Part Eight: Settlement and Other Alternatives to Trial
Chapter 30
Mediation
John C. "Rusty" Allman
Chapter 31
Effective Negotiation
Michael Curry
Chapter 32
Settlement: A Defense View
Wallace E. Maloney
Part Nine: Litigation and the Federal Government
Chapter 33373
Federal Tort Claims Act, the Plaintiff's Perspective
Joseph T. Cook
Chapter 34
When Uncle Sam Pays: Government Liability in Tort Litigation
Kathlynn G. Fadely
Chapter 35
Defending Military Aircraft Accident Cases
Ron A. Sprague
Chapter 36
Understanding the Military Contract Defense—What the Justice Meant to Say
M.P. Papadakis
Part Ten: Varieties of Litigation—Trains, Planes, Automobiles and Products
Chapter 37
Defending Manufacturers in Aviation Product Liability Cases
Michael C. Siboni
Chapter 38
A Manufacturer's Money, Product, and Reputation
Robert Martin
Chapter 39
The Basics of Recreational Injuries
Nick C. Nichols
Chapter 40
Surviving a Toxic Tort Case: From Retainer to Trial
Thomas V. Girardi & Jill Patrice McDonell
Chapter 41
Hazardous Chemicals and OSHA: Evidence Today and Tomorrow
J. Michael Black
Chapter 42
The Crash Didn't Kill Him. It Was the . . .—Second Impact Cases
M.P. Papadakis and Robert J. Celedonia III
Chapter 43
Railroad Crossing Cases
Dale Haralson
Chapter 44
The Common Law in the New Millennium—Protecting Our Children
James A. Swartz and Elly D. Swartz
Chapter 45
Handling a Major Air Disaster
Michael Olin
Chapter 46
The Death on the High Seas Act
Juanita M. Madole
Chapter 47
Warsaw and Beyond—International Air Crashes
Steven R. Pounian
Chapter 48
Handling Class Actions
James Branton
Chapter 49
Common Ethical Issues Encountered in Mass Tort Litigation: The Plaintiffs' Perspective
George M. Fleming and D'Lisa R. Simmons
Chapter 50
Products Liability Litigation—Past, Present and Into the 21st Century
J. Denny Shupe and Joseph J. Asselta
Part Eleven: Choice of Law and Forum
Chapter 51
Choosing and Keeping Your Favorable Law
Tom H. Davis
Chapter 52
Asserting and Avoiding the Preemption Defense
Stuart J. Starry
Part Twelve: Other Perspectives
Chapter 53
The Future From A–Z, or "Can a Lousy Law Student Find Happiness Later on as a
Successful Trial Lawyer"
Browne Greene
Chapter 54
Attorneys as Warriors
John Scott Hoff
Chapter 55
Litigation as War
John Scott Hoff
Chapter 56
Perspectives on Civil Trial Practice: Economics, Experts, Ethics, and Efficiency
M.P. Papadakis
Epilogue
Parting Shots from Thorrson: The Power is in Your Briefs—Only the Paranoid Prepare
Properly
Thorsson
About the Author
About the Contributors
Index
---
Share this Product