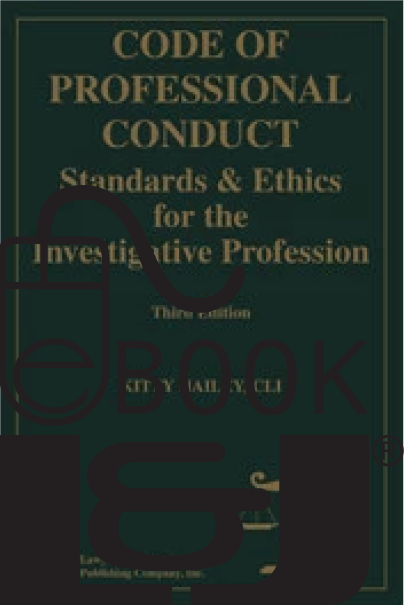 Code of Professional Conduct, Third Edition PDF eBook
---
This book is also available as a Kindle eBook. Click here to purchase and download:
Author:

 

Kitty Hailey
Copyright Date Ed:  December 1, 2015
PDF eBook
This is the third edition of the first codification of ethical standards for professional private investigators. Originally based upon existing codes of various state, national and international organizations, The Code has now expanded to include state of the art accepted practices and procedures. The investigator's world is not static. States differ as to their regulations. Laws change daily. The investigator is affected by technology, legal codes and accepted ethical standards. The burden falls upon the investigator to be reasonably current with these changing trends. The Code seeks to act as a guide in this fluctuating world. The motto, Do No Harm is the basis for this writing. It clarifies and simplifies the manner in which investigators can interact with members of the public and within their own ranks. The profession demands that the most diligent, honest, and professional conduct be afforded those who pay for the services of the investigator. This third edition has honed the manner in which this is best accomplished.
The Code is a resource for the investigators office. It is a "go to" book and a training manual. While it might not answer all the questions it is a guidebook and a tool to be used to maintain high standards. The Code is also recommended to attorneys using the services of a professional investigator. Any business or individual hiring an investigator can use The Code to enhance the process.
If ever there was a bible for the investigative profession; this is it.
Table of Contents
Preface
Acknowledgments
Introduction
Preamble and Scope
Summary of the Rules of Professional Conduct
The Code of Professional Conduct
Terminology
Appendix
Subject Guide to the Code of Professional Conduct
About the Author
---
Share this Product