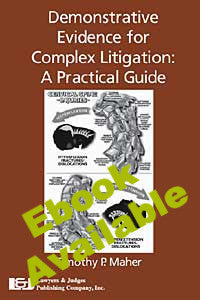 Demonstrative Evidence for Complex Litigation
---
This book is available as a Kindle E-book. Click here to purchase and download:
Author: Timothy P. Maher

ISBN 10: 1-930056-98-2

ISBN 13: 978-1-930056-98-5

Copyright Date Ed:  January 01, 2005

Pages: 75 pages

Binding Information: Casebound

Size: 7.5 ✕ 9 Inches (US)
Every trial attorney, whether for the plaintiff or defense, is faced with the task of persuading the jury to interpret evidence that will either acquit or convict the accused. In order to do this, attorneys must hold the jurors' attention, present the evidence in an understandable manner and make the juror see their side of the story. Demonstrative evidence is often used to accomplish these tasks. But what should the demonstrative evidence include? If it is too technical, there's a chance the jury will not understand it. If it doesn't include the right information, there's a change the jury will forget it.
Demonstrative Evidence for Complex Litigation: A Practical Guide is a helpful resource that will provide you with quick, easy to understand tips on how to use demonstrative evidence and what should be included in your presentation. This is a great guide for the new trial attorney or anyone who wants to sharpen their skills.
Topics include
Developing strategy
Design considerations
Working with demonstrative evidence developers
And expert witness and demonstrative evidence
Table of Contents
1. Introduction
2. Background: Complex Litigation, Demonstrative Evidence, and Jurors
2.1 The Nature of Complex Litigation
2.2 Why Demonstrative Evidence Works
2.3 How Decision-Makers Reach Verdicts: The "Story" Theory of Decision-Making
2.4 Decision-Maker Acceptance
3. Developing a Demonstrative Evidence Strategy
3.1 Step 1
3.2 Step 2
3.3 Step 3
3.4 Step 4
3.5 Step 5
3.6 Step 6
3.7 Step 7
3.8 Step 8
3.9 Step 9
A. Poster exhibits
B. Electronic slide exhibits
C. Edited video footage
D. Computer generate video graphics
E. Three-dimensional scale models
F. Interactive exhibits
4. Considerations When Planning Demonstrative Evidence
4.1 Keep It Simple
4.2 Admissibility Issues
4.3 Three Rules to Live By
A. Rule 1. It is all about the decision-makers
B. Rule 2. Know thy decision-maker
C. Rule 3. Your opinion is irrelevant
4.4 The Distinctions among Animations, Simulations and Video Graphics
4.5 Proving the Accuracy of Demonstrative Evidence
4.6 How Demonstrative Evidence Is Used Differently for Alternate Dispute Resolution
4.7 Analyzing the Opposition's Demonstrative Evidence
5. Design Considerations
5.1 How Humans Learn
5.2 Using the Opposition Party's Statements in Your Demonstrative Evidence
5.3 Teaching Fundamentals
5.4 Alternate, or "What if . . . ?" Scenarios
5.5 The Power of Combining Computer-Generated Content with Actual Imagery
5.6 The Importance of Portraying Motion
5.7 Emotions in Demonstrative Evidence
5.8 Using Storyboards
5.9 Graphics Fundamentals for Demonstrative Evidence Design
6. Demonstrative Evidence Presentation Technology
6.1 Videotape
6.2 DVDs
6.3 Trial Presentation Software
6.4 Viewing Options
7. Working with Demonstrative Evidence Developers
7.1 How to Choose a Demonstrative Evidence Firm
7.2 The Process of Working with Demonstrative Evidence Developers
7.3 How Video Graphics Are Made
7.4 Case Information Needed by the Demonstrative Evidence Developer
7.5 Managing Costs
8. Notes on Using Demonstrative Evidence with Common Litigation Types
8.1 Vehicular Collisions
8.2 Visibility Cases
8.3 Medical Cases
8.4 Product Cases
8.5 Patent Cases
8.6 Commercial Litigation Cases
8.7 Property Related Cases
8.8 Criminal Cases
8.9 Slip, Trip and Fall Cases
8.10 Industrial Cases
8.11 Fire and Explosion Cases
8.12 Shipping and Packaging Cases
8.13 Aviation Cases
9. Expert Witnesses and Demonstrative Evidence
9.1 How to Keep Demonstrative Evidence from Upstaging an Expert in Trial
9.2 How to Design Demonstrative Evidence for a Particular Expert
9.3 Optimizing the Expert's Presentation of Demonstrative Evidence 64
---
Share this Product
---
More from this collection