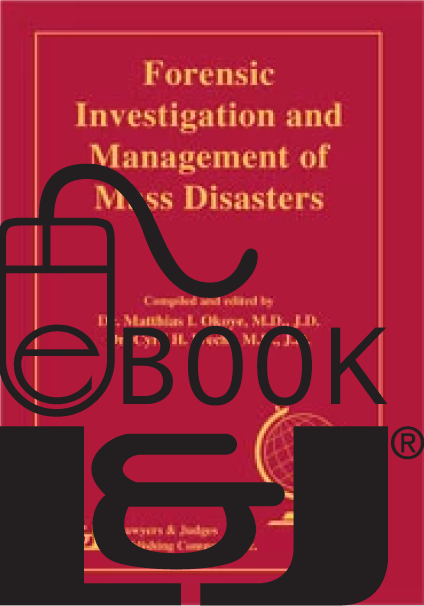 Forensic Investigation and Management of Mass Disasters PDF eBook
---
Author:

 

Matthias I. Okoye, Cyril H. Wecht
ISBN 10:

 

1-933264-41-1
ISBN 13:

 

978-1933264-41-7
Copyright Date Ed:

 

October 15, 2007
Pages:

 

458 pages
PDF eBook
This book covers mass disasters of all types, including acts of terrorism and natural disasters. The twenty-two chapters cover diverse topics from forensic investigation into the cause of the disaster, to identifying and handling the deceased, to legal considerations. You'll find information on the role of law enforcement in disaster investigation; ways of identifying victims, including DNA analysis and forensic dentistry; the roles of forensic engineers, toxicologists and anthropologists; disaster medicine; and mass disaster litigation. This book also informs you of psychopathic behavior and the media in terrorist acts and the psychology at work in terrorist activity. Also included are examples of mass disaster management plans including the National Association of Medical Examiners Mass Fatality Plan.
Topics Include:
Scene investigation
The role of law enforcement
DNA and TrueAllele ® Technology in identifying victims
Dental identification of victims
The role of the forensic pathologist
The role of the corner/medical examiner
The role of funeral directors and mortuary staff
Forensic engineering and mass disasters
Forensic anthropologists and mass disasters
Forensic toxicology and mass disasters
Forensic entomology and mass disasters
Core competencies in disaster medicine
Mass disaster litigation
Disaster management teams
Disaster management plans
Biological and chemical terrorism
Terrorist activity and the psychology behind it
Table of Contents
Chapter 1. Scene Investigation: The Role of Law Enforcement and Forensic Scientists in Bioterrorism and Mass Disasters
Chapter 2. Mass Casualty Identification through DNA Analysis: Overview, Problems, and Pitfalls
Chapter 3. Identifying Human Remains Using TrueAllele® Technology.
Chapter 4. Dental Identifications in Mass Disaster Investigations
Chapter 5. The Role of the Forensic Pathologist in a Mass Disaster
Chapter 6. The Role of the Coroner/Medical Examiner After a Mass Disaster
Chapter 7. Medical Examiners, Coroners, and Biological Terrorism: A Guidebook for Surveillance and Case Management
Chapter 8. The Role of Funeral Directors and Mortuary Personnel within the DMORT Operations in Mass Disasters
Chapter 9. Forensic Engineering in Mass Disasters:Analysis, Prevention, and Mitigation
Chapter 10. Psychopathy, Media and the Psychology at the Root of Terrorism and Mass Disasters
Chapter 11. Current Trends in Forensic Investigations of Human Rights Abuse: Human Identification of Mass Graves
Chapter 12. The Role of Forensic Anthropologists in Mass Disasters and the Issues and Challenges in the Anthropological Identification of Mass Disaster Victims
Chapter 13. The Application of Forensic Entomology to Mass Disasters
Chapter 14. Developing Core Competencies in Disaster Medicine
Chapter 15. Mass Disaster Litigation in the United States
Chapter 16. Recent Air Crashes in Nigeria: Legal Considerations
Chapter 17. Recent Mass Disasters in West Africa: The Urgent Need for Training Forensic Experts in Africa
Chapter 18. Forensic Toxicology in Mass Disasters:From Specimen Preservation to Toxic Truth
Chapter 19. Survival Time and Activity Prior to Death in Fatal Head Trauma
Chapter 20. Survival Time and Activity Prior to Death in Fatal Trauma to the Body and Limbs
Chapter 21. Florida's Disaster Fatality Management Team
Chapter 22. Public Health Aspects and Preventive Measures
Appendix A. National Association of Medical Examiners Mass Fatality Plan
---
Share this Product
---
More from this collection