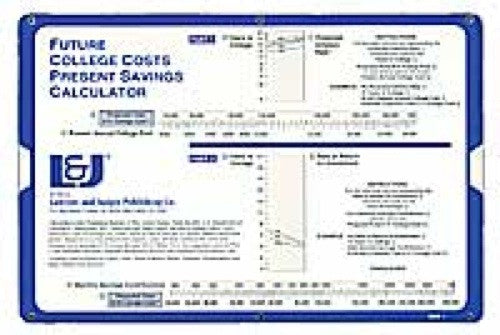 Future College Costs and Present Savings Calculator
---
Can you advise your clients on future college costs? Can you prepare a present savings strategy plan to cover these future costs? Now you can with the our Future College Costs/Present Savings Calculator. By the time your clients' children are ready to attend college the fees, tuition, room and board, and other expenses will be considerably higher. This handy tool allows you to calculate future college enrollment costs based on today's college costs, using any inflation rate you choose.
Once you have dialed the future cost, the calculator projects a present monthly savings contribution strategy based on the investor's rate of return.
The reverse side of the calculator describes numerous investment options including U.S. Savings Bonds, Stock and Mutual Funds, Baccalaureate and Zero Coupon Bonds, State and Federal Aid, Military Aid, and State Tuition Prepayment Plans.
---
Share this Product