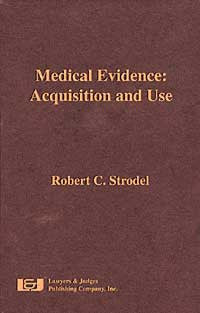 Medical Evidence: Acquisition and Use
---
Author: Robert C. Strodel
ISBN 10: 1-930056-05-2
ISBN 13: 978-1-930056-05-3
Copyright Date Ed: April 19, 2001
Pages: 352 pages
Binding Information: Hardcover
Size: 6 ✕ 9 Inches (US)
Checking and cross-checking medical evidence can make or break your case. But how do you find medical evidence?
Where do you begin your hunt? With Medical Evidence: Acquisition and Use, you'll learn how to avoid physician-attorney friction, how to get pertinent information from unwilling physicians, how to write effective letters, how to ask for reports from physicians, nurses, and hospital administrators, what evidence to ask for, how to use the law to get vital records, and when records are discoverable. You'll also discover how to evaluate x-rays, electromyography (EMG), myelography, electroencephalography (EEG), and other hospital records.
Mr. Strodel provides specific details and case examples, so that your trial presentations will be vivid,decisive, and effective.
This book is also available as an E-book. Click here to purchase and download:
Topics covered include:
Guidelines for establishing attorney-physician professional relationships
How to find and acquire evidence from hospital records
What an attorney needs to know about human anatomy, routine medical testing, and special procedures
The important legal ramifications of death and dying
Attorney techniques that win cases
How to handle testimony of treating, examining, and expert medical witnesses
How to evaluate injury and death damages
Projecting damages and injuries at trial
Attorney techniques: medical malpractice case evaluation
Avoiding problem areas and traps in malpractice case presentations
Using attorney discovery techniques, written and at deposition
Employing adversing techniques of a defendant physician at deposition or trial: setting the scene and psychological impact
How to handle medical expert witnesses
Case examples of building damages
Table of Contents
Dedication
Preface
Introduction
Part One: Assembling Medical Evidence in Personal Injury Actions

Chapter 1: Guidelines for Establishing Attorney-Physician Professional Relationships
1.1 Attorney-Physician Teamwork
A. Understanding what "personal injury" is really about
B. Establishing a professional relationship between physician and attorney
1.2 How to Avoid Common Causes of Attorney-Physician Friction: Professional Courtesies
in Scheduling
1.3 How to Request Information by Letter: Sample Letters
A. Form letter requesting information from doctor
B. Sample letter requesting specific information
1.4 How to Get Necessary Information from the Reluctant or Uncooperative Physician with
Minimal Resentment
A. Generally
B. Form letter covering subpoena
1.5 Protection and Payment of Medical Fees
A. Attorney procedures for paying medical fees: Sample form
B. Hospital and physician liens
C. Attorney-incurred medical charges
D. Depositions and court testimony
1.6 Reports from Treating Physicians: What to Ask for and How to Obtain It
A. What to ask for: Sample reports
1. Sample of excellent report
2. Sample of acceptable medical report
3. Sample of poor medical report
B. The problem of "form" reports
C. The "reach and snatch" technique
1. Authority
2. Format for the petition
1.7 Communication Barriers between Attorney and Physician
1.8 Medical-Legal Duties: The "Whole" Physician
A. The legal system: What it is and how it works
B. The physician's relationship with the legal system
Chapter 2: How to Find and Acquire Evidence from Hospital Records
2.1 The Purpose and Standards of Hospital Records: Contents of Patient Charts
2.2 The Medical Records Department of a Hospital
2.3 Obtaining Hospital Records
A. Example of enabling legislation
B. Example of discovery rule notice to produce
C. Cause of action for failure to maintain hospital records
2.4 Medical Studies Acts
A. The credentialing process
B. Restraints on mental health records
1. Importance of confidentiality
2. Statutory privilege
3. When records may be discoverable
4. When clients may introduce their mental condition
5. Limits on what is discovered
6. Records of minors
C. Abstract of hospital record in lieu of entire record
D. Other hospital items
E. Incident reports
F. Diagnosis-related groups (DRG)
Chapter 3: What an Attorney Needs to Know about Human Anatomy, Routine Medical Testing and Special Procedures
3.1 Basic Anatomy
3.2 Routine Medical Testing in Injury Cases
3.3 Special Procedures and Testing: Thermography
3.4 Psychogenic Pain
3.5 Psychological Testing
3.6 Seeking Second Opinions
Chapter 4: The Important Legal Ramifications of Death and Dying
4.1 The Criminal Overlay to Civil Law Rights: How to Look Beyond What Appears to
Be the Cause of Death
A. How survivors can lose insurance benefits
B. How to reverse an adverse insurance decision and secure benefits
C. Recognizing other death problems that are not always what they seem
4.2 Other Legal Ramifications of Death, and How to Counter-act Them
A. Autopsies
B. Declarations prior to death
C. Handling inquests
D. Other problems
4.3 Medical Malpractice: Exhumation Autopsy
A. Case summary
B. Hypothetical questions prepared for an expert witness
4.4 Conclusion
Part Two: Handling Medical Witnesses at Deposition and Trial: Normal Practice Cases
Chapter 5: Attorney Techniques That Win Cases
5.1 Preparing the Medical Witness: Tactical Considerations
A. Medical versus legal meanings: Causation
B. Approaching the physician witness as treating physician
C. Deposition and trial
5.2 Overcoming the Medical "Fear Syndrome"
5.3 How to Handle the "Know-It-All" Physician
5.4 "Causation" in Context of Damages
5.5 Other Aspects of Medical Testimony
5.6 Other Attorney Techniques
A. Updated medical examination
B. Additional preparation of medical witnesses
5.7 Physicians' Role in Other Health Care Cases
A. Social Security disability determinations
B. Health and accident claims
C. Life insurance claims
Chapter 6: How to Handle Testimony of Treating, Examining and Expert Medical Witnesses
6.1 The Treating Physician
6.2 The Examining Physician
6.3 Pitfalls to Avoid When Examining Physicians Are Utilized
6.4 Chiropractors, Therapists, and Other Paramedical and Quasi-Medical Witnesses
A. Chiropractors
B. Psychologists
C. Physical and occupational therapists
6.5 Lawsuits versus Administrative Proceedings
6.6 Expert Medical Witnesses
6.7 Medical Malpractice Experts
Part Three: Building Damages in Personal Injury and Death Cases
Chapter 7: How to Evaluate Injury and Death Damages
7.1 Diluting Criteria of Value
7.2 Comparative Fault Role
7.3 Medical Malpractice Cases
7.4 To Settle or Try the Case: Criteria
A. Criteria in nonmedical malpractice cases
B. Medical malpractice cases
Chapter 8: Projecting Damages and Injuries at Trial
8.1 Trial Preparation Checklists
8.2 Demonstrative Evidence: How Much and What Types?
A. Preparation
B. Using demonstrative evidence
C. Types of demonstrative evidence in medical damage cases
D. Examples of demonstrative evidence
E. Examples of projecting damages or injury by nondemonstrative evidence
Part Four: Success-Proven Techniques in Medical Malpractice Litigation
Chapter 9: Attorney Techniques: Medical Malpractice Case Evaluation
9.1 What Is Malpractice? What Is Not Malpractice?
9.2 Basic Axioms in Accepting or Rejecting a Medical Negligence Action
A. Axiom 1: Do not file a medical malpractice action without expert evaluation
B. Axiom 2: Do not file "iffy" medical negligence cases
C. Axiom 3: Do not file small-value cases, even if absolute malpractice exists
D. Axiom 4: Do not file "technical" malpractice cases
E. Axiom 5: The attorney's professionalism and credibility are on the line when
a medical malpractice case is undertaken
9.3 Client Management and Investigation of a Medical Negligence Claim
A. Telephone screening
B. The first client interview
C. After accumulation of pertinent medical data and records
D. Additional records
E. Following medical research
F. Following physician evaluation
Chapter 10: Avoiding Problem Areas and Traps in Malpractice Case Presentations
10.1 Trauma
10.2 Cancer Cases
10.3 Cardiovascular Cases
10.4 Other Problems
10.5 The "Diluted" Case
10.6 The Economics of Medical-Legal Litigation: How to Avoid Going Broke
Chapter 11: Using Attorney Discovery Techniques, Written and at Deposition
11.1 Acquisition of Medical Information
A. Hospital records
1. Hospital records generally
2. Records not usually found in a hospital's general patient chart:
Special discovery required
B. Physician office records
C. Other sources of medical information
D. Medical research
11.2 The Use of Written Interrogatories to Defendant Physician
A. Generally
B. A checklist for the lawyer utilizing interrogatories
11.3 Deposing the Defendant Physician
A. An example of a technique in cross-examining an emergency room physician
B. Use of authorities at defendant's deposition
C. The case can be won or lost at the defendant's deposition
11.4 Deposition of a Defendant Expert
11.5 Nonphysician Evidence
A. Paramedical personnel
B. Financial records
C. Public records
D. Lay witnesses
Appendix: Medical Source Materials
A. Medical literature sources
B. Medical-legal sources
C. Depositories of medical source information
1. Medical authorities
2. Legal authorities
3. Commonly used abbreviations of medical terms
Chapter 12: Employing Adversing Techniques of a Defendant Physician at Deposition and Trial: Setting the Scene and Psychological Impact
12.1 The Nature of Physician
A. The setting for a deposition of a defendant physician
B. Amenities at the beginning of the deposition
C. Techniques of questioning a defendant physician
12.2 Handling a Defendant Physician at Trial
A. The defendant physician at trial generally
B. The do∂s and don∂ts of handling a defendant physician in open court
12.3 Basic Philosophy
12.4 How to Take on a Defendant Physician "Head-On"
A. Introduction
B. Reasons to call defendant physician in plaintiff's case
12.5 Example of Cross-Examination of Defendant Gynecologist
Chapter 13: How to Handle Medical Expert Witnesses
13.1 Guidelines in Selection
13.2 Sources of Expert Testimony
A. Witness services
B. Sources of quality medical witnesses
1. Medical centers
2. The literature
3. Physicians you know
13.3 Scope of Expert Testimony
A. The modern view: Expert testimony based upon data not in evidence
B. Purpose of expert testimony in malpractice cases
C. Physician specialists
D. Preparation of your expert for trial
13.4 Example of Direct Examination of Your Own Presented Expert Witness
13.5 Example of Cross-Examination of Defendant's Expert Witness
13.6 Obtaining Writings or Testimony of Adverse Expert Witnesses before
Deposition or Trial
Appendix: Case Examples of Building Damages
About the Author
Index
---
Share this Product
---
More from this collection