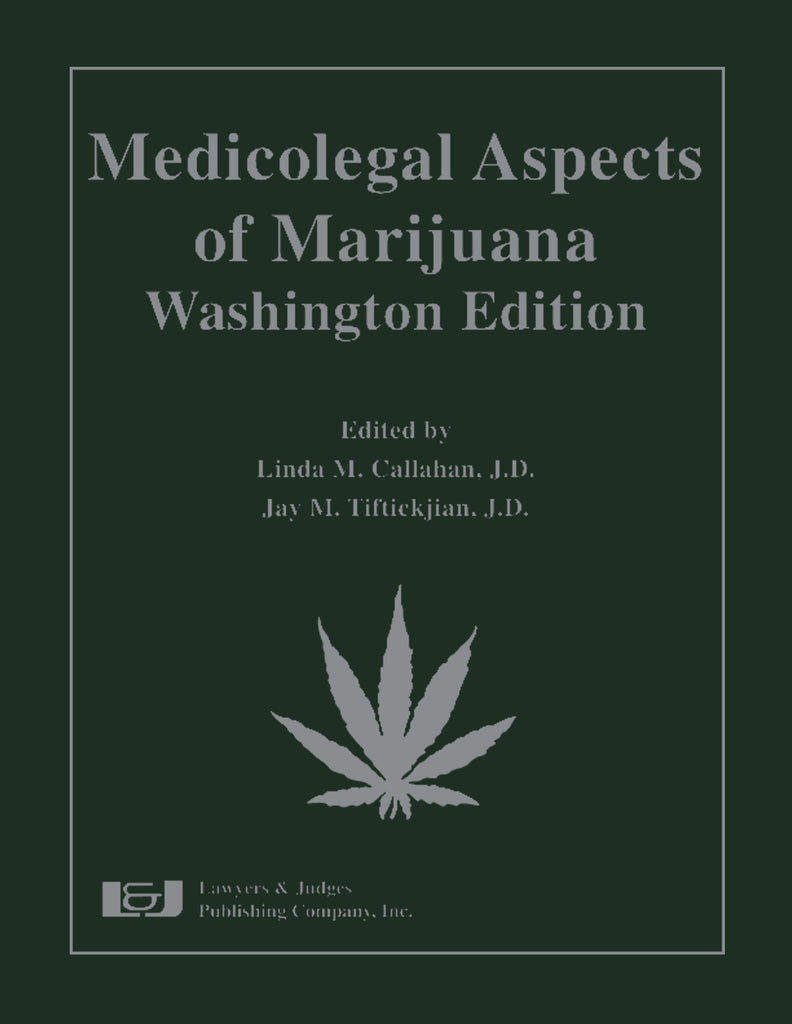 Medicolegal Aspects of Marijuana: 
Washington Edition
---
Edited by: Linda M. Callahan, J.D. and Jay M. Tiftickjian, J.D.; Contributors: James J. O'Donnell III, Ph.D., James T. O'Donnell, Pharm.D., David M. Benjamin, Ph.D, Jacey Liu, J.D., Stephen Grant, J.D., Megan Powers, J.D.
ISBN 10: 1-936360-50-0
ISBN 13: 978-1-936360-50-5
Copyright Date Ed:  May 20, 2016
Binding Information: Casebound
Size: 8.5 ✕ 11 Inches (US)
Medicolegal Aspects of Marijuana: Washington Edition
is the hands-down indispensable textbook for attorneys, judges, legislators, and individuals involved in the business of medical and recreational cannabis.
The burgeoning field of marijuana-related litigation in Washington touches many areas of law, from criminal prosecution, to motor vehicle accidents, to real estate transactions, to business regulation, to taxation issues, and to Native American law. The medicolegal aspects of marijuana are complex topics because so many different components are present in marijuana-related criminal, civil, and administrative litigation.
The wealth of information presented in this book makes it an invaluable resource when investigating and litigating cases involving marijuana.
Table of Contents
Preface
Chapter 1: A Brief History of Marijuana Legislation in Washington
Linda M. Callahan, Esq.
1.1 A Brief History of Marijuana Legislation in Washington
Endnotes
Chapter 2: Marijuana: Pharmacology and Medical-Legal Issues
James T. O'Donnell PharmD, MS, FCP, ABCP, FACN, RPh, James J. O'Donnell III MS, Ph.D, and David M. Benjamin, Ph.D, FCP, FCLM
2.1 Introduction
2.2 Federal Law vs. State Law
A. Harrison Narcotics Tax Act
B. Comprehensive Drug Abuse Prevention and Control Act
C. Marijuana Drug Laws at State Level
2.3 The Pharmacology and Toxicology of Δ9-tetrahydrocannabinol (THC)
A. Source, Active Compounds
B. Kinetics—How THC is Absorbed Into the Body
C. Pharmacodynamics—Where THC Works in the Body—Site of Action
D. Cannabidiol
E. Routes of Administration for Marijuana
2.4 Marijuana Safety
A. Serious Adverse Effects
B. Risk of Addiction
C. Effect on Brain Development
D. Long Term Behavioral Effects
2.5 Conclusion
Endnotes
Appendix 2.1
Chapter 3: Marijuana Criminal Offenses: Washington
Jacey L. Liu, Esq.
3.1 Introduction
3.2 Possession of Marijuana
A. Commercial Exceptions
B. Medical Exceptions
3.3 Marijuana Trafficking
A. Commercial Exceptions
B. Medical Exceptions
3.4 Miscellaneous Criminal Offenses
A. Involving a Minor in Controlled Substance Transaction
B. Conducting or Maintaining Marijuana Club
C. Unlawful Use of Medical Marijuana or Medical Marijuana Authorization Database
D. Fraud or False Statements
Endnotes
Chapter 4: Marijuana as a Federal Controlled Substance
Jacey L. Liu, Esq.
4.1 Introduction
4.2 Federal Power, Prohibition, and Penalty
4.3 Exemptions and Defenses
4.4 Enforcement Guidelines and Prosecutorial Discretion
4.5 The Rohrabacher–Farr Amendment
Endnotes
Chapter 5: Marijuana Licensing, Producing, Processing, Transport, and Sales under Washington Law
Stephen P. Grant, Esq.
5.1 Introduction
5.2 Basic Licensing Considerations for all Applicants
A. General Considerations
B. Background Checks
C. Administrative Violations
D. Vertical Integration Prohibited
E. Operating Plans
F. Insurance
5.3 Entering the Marijuana Market
A. Local Bans on Marijuana Licenses
B. Local Objections
5.4 Growing Marijuana
A. Producer License
B. Processor License
5.5 Distribution of Marijuana
A. Retail License
B. Retail Transaction Limits
5.6 Transportation of Marijuana
A. Regulations
B. Proposed Transportation License
5.7 Security Requirements
Endnotes
Appendix 5.1 Washington Retail Marijuana Regulation Checklist
Chapter 6: Land Use, Real Estate and Landlord/Tenant Issues in Washington
Megan M. Powers, Esq.
6.1 Overview
6.2 Issues with Land Use
A. Medical and Recreational Marijuana Business Issues Specific to Land Use
B. Individuals' Medical and Recreational Use of Marijuana and Issues Specific to Land Use
6.3 Real Estate Issues
6.4 Landlord and Tenant Issues
A. Medical and Recreational Marijuana Business Issues Specific to Landlords and Tenants
B. Tenants Who Possess or Consume Medical or Recreational Marijuana Endnotes
Chapter 7: Capital Investment Law and Marijuana Businesses in Washington
Linda M. Callahan, Esq.
7.1 Introduction
7.2 Selected Federal Statutes, Regulations, and Rules
A. The Securities Act of 1933
B. The Securities and Exchange Act of 1934
C. Transactions Exempted Under Section 4 of the Securities Act of 1933
D. Regulation D: Rules Governing the Limited Offer and Sale of Securities Without Registration Under the Securities Act of 1933
E. Private Placement Exemption: Transactions by an Issuer Not Involving any Public Offering
7.3 Important Considerations
Endnotes
Chapter 8: Banking and Taxation Issues in Washington
Linda M. Callahan, Esq.
8.1 Introduction
8.2 Banking and Selected Federal Statutes, Regulations, Cases and Memoranda
A. Federal Law Enforcement and Prosecutorial Guidelines
B. Money Laundering, FinCEN, CTR and SAR Filings
C. Customer Due Diligence (CDD) Recommendations
8.3 Taxation
A. Retail Excise Tax and Exemption for Medical Marijuana Patients
B. Federal Taxation and Deductions
C. The Two-Business Rule
Endnotes
Chapter 9: Tribal Marijuana Businesses in Washington
Linda M. Callahan, Esq.
9.1 Introduction
9.2 Brief History of Federal, State and Tribal Jurisdiction of Criminal Laws
A. Early Case Law and Legislation
B. Public Law 280
C. Initiative Measure 502
9.3 The Wilkinson Memorandum
9.4 House Bill 2000 and the Compacts
A. House Bill 2000
B. The Compacts
Endnotes
Appendix A: Relevant Washington Statutes
Appendix B: Chapter 314-55 WAC: Marijuana Licenses, Application Process, Requirements, and Reporting
Appendix C: Federal Documents
About the Contributors
Index
---
Share this Product
---
More from this collection