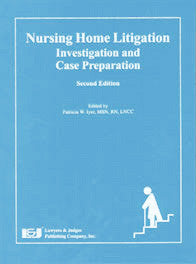 Nursing Home Litigation: Investigation and Case Preparation, Second Edition
---
Author: Patricia W. Iyer
ISBN 10: 1933264004
ISBN 13: 978-1933264004
Copyright Date Ed:  January 1, 2006
Pages: 720 pages
Binding Information: Softcover
Size: 8.5 ✕ 11 Inches (US)
Each chapter in Nursing Home Litigation Investigation and Case Preparation, Second Edition has been revised and updated while new chapters have been added to provide detailed information on even more issues and cases in nursing home litigation. It is an excellent reference for your nursing home or eldercare litigation team including attorneys representing either plaintiffs or defendants, financial consultants, life care planners, and other specialists with perspectives from experienced attorneys, physicians, nursing consultants, pharmacists, and nursing home experts.
This book is composed of four specialized sections so you can quickly and easily find the information you need. Part One discusses legal strategies you and your team can utilize during the investigation and pretrial phases of nursing home cases including screening cases, special issues unique to assisted living and nursing home cases, and use of Legal Nurse Consultants. Part Two explains the liability issues that arise due to the nature of the nursing home setting including staffing concerns, services provided to residents, administrative liability, direct and indirect medical practitioner responsibility issues. Part Three describes common allegations of injury, illness and other liability issues that occur in nursing home cases including falls, skin trauma, infections, pharmacology issues, pain management, billing fraud, and records tampering. Part Four provides tips for defending nursing home, long-term care and assisted living facilities with information on defense perspectives and strategies on many types of nursing home cases as well as insurance adjusters' perspectives on nursing home cases pertaining to insurance claims.
This comprehensive text is a must-have legal and medical reference for everyone who works with nursing home, assisted living, long-term care, or elder law cases.
This book is also available as an E-book. Click here to purchase and download:
Topics include:
Nursing home liability
Physician's liability
Nursing home administration liability
Defense perspectives
Claims adjuster's perspectives
Use of legal nurse consultants
Screening cases
Investigation and pretrial considerations
Nursing practice in long-term care situations
Overview of the nursing home environment
Assisted living cases - special considerations
Falls and restraints
Skin trauma
Infections
Wandering and Elopement
Pharmacology and the elderly
Pain management
Tampering with medical records
Billing fraud
Table of Contents
Part I
Legal Strategies

Chapter 1: Introduction
Scope of the Issue
Current Status of Nursing Home Litigation
Hurdles to Overcome
Chapter 2: Screening the Nursing Home Case
The Initial Contact
Gathering Information Before the Initial
The Initial Interview
Preliminary Investigation: Re-evaluation
Drafting the Complaint

Chapter 3: Nursing Home Cases:
Investigation and Pretrial Considerations
Overview of Nursing Home Structure
Establishing the Foundation of a Nursing Home Claim
Opening the Estate
Common Allegations
    Developing a Claim
Request for Production of Records
Interrogatories
Motion to Compel and for Sanctions
Expert Opinions
   Depositions
   Other Factors Influencing Litigation

Chapter 4: Assisted Living Cases: Investigation and Pretrial Considerations
  Case Selection
     Pre-suit Discovery Considerations
Typical Assisted Living Facility Case Scenarios
    Theories of Liability
Discovery Considerations
Motion Practice
Settlement Considerations

Chapter 5: The Legal Nurse Consultant: An Essential Team Member
American Association of Legal Nurse Consultants
     Qualifications
Roles of the LNC
Advantages of Using a Nurse Rather than a Physician to Consult on Nursing Home Malpractice Cases        Limitations of the Legal Nurse Consultant's Role
The Independent Legal Nurse Consultant
The Legal Nurse Consultant Employed by a Law Firm
Portions of a Case Summary
Portions of an Elopement Chronology
Indepth Analysis of Negligence
Plaintiff Nursing Expert Witness Report

Part II
Liability: Settings and Healthcare Providers

Chapter 6: Inside the Nursing Home: A Medico-legal Perspective
Our Nation's Older Population
Facility and Resident Characteristics
Role of the Facility Governing Body
Key Players in a Nursing Home: The Basics
Resident Assessment and Care Planning
Resident Services
Documentation in a Nursing Home
Staffing Hours and Patterns
Committees
Relevant Law and Regulation

Chapter 7: Foundations of Nursing Practice     
Long-Term-Care Diversity
Subacute Care
Staffing Issues
The Nursing Process
Errors in Carrying Out the Nursing Process
The Importance and Purpose of Documentation
Regulations Pertaining to Medical Records
Overview of the Components of the Long-Term-Care Record
Admission and Care Planning Documents
Nursing Notes
Additional Nursing Documentation
Physician Documentation
Medicare Documentation
Discharge Documentation
Careless Documentation
Common Nursing Home Phrases and Terminology
Common Clinical Diagnosis Abbreviations

Chapter 8: Nursing Home Liability and Its Consequences
   Scope of the Problem
Societal Consequences
Economic Consequences
Consequences for the Nursing Home
Consequences for Other Facilities
Legal Consequences: Settlement and Verdict Trends of Nursing Home Cases
Overview of Resident Consequences
Pressure Sores
Falls and Fractures
Abuse of Residents
Neglect
Malnutrition and Dehydration
Medication Errors
Six Major Categories of Nursing Liability
Pain and Stress of Hospitalization

Chapter 9: Physician's Liability Issues
Overview of the Physician's Role in the Care of the Nursing Home Patient
Regulatory Requirements in Nursing Home Care: Relationship to the Physician's Role    
Current Standards of Care and Potential for Physician Liability
Direct Physician Responsibility Issues
Indirect Physician Responsibility Issues
The Nursing Home Medical Director
Defenses against Causes of Action against Physicians

Chapter 10: The Administrator and Nursing Home Liability
Facility Licensure
Facility Certification
Essential Documents for the Attorney's Library
The Difference Between a "Skilled Nursing Facility" (SNF) and a "Nursing Facility" (NF)
OBRA Citations and What Is Meant by "Substandard Care"    
Additional Sources of Information About an Individual Nursing Home's OSCAR Reports minutes    
The Nursing Home Survey Process: A Brief Overview    
Common Reasons Why Nursing Homes are Sued: Canvassing Federal OBRA 483.10-483.75    
Administrator's Exposure as a Potential Defendant
Nursing Home Administrator's Role as an Expert Witness    
Part III
Liability: Allegations

Chapter 11: Falls and Restraints Liability Issues
Falls in the Nursing Home
Prevention of Falls
Interventions to Prevent Falls
Post-fall Treatment
Physical Restraints and Side Rails
Damages

Chapter 12: Skin Trauma
Wounds
Burns    
Pressure Ulcers
Standard of Care

Chapter 13: Infections in the Nursing Home
Susceptibility Factors For Infection Among Nursing Homes Residents
Barriers to the Optimal Management of Infections in the Nursing Home
Common Types of Infections in Long-Term-Care Facilities
Infection Control
The Importance of Following a Care Process in Infection Control    
Liability Associated with Transmittal of Infections
Liability Associated with the Delay in Recognition of Infections
Liability Associated with the Delay in Treatment or Transfer to the Hospital    
Antibiotic Resistant Infections and Antibiotic Use
Guidance to Surveyors—Long-Term-Care Facilities (from the State Operations Manual)

Chapter 14: Wandering and Elopement
Wandering and Elopement Definitions
Wandering
Elopement
Safety Duty
Residents at High Risk for Elopement
Prevention Strategies
Dealing with the Emergency
Regulatory Impact of Elopement
Reviewing and Preparing the Elopement Case
Identifying the Defenses: Resident Rights
Discovery Strategies


Chapter 15: Pharmacology and the Elderly     
Qualifications of the Consultant Pharmacist
Roles of the Consultant Pharmacist
Inappropriate Medications
  Chemical Restraints
Off-Label Agents
Unnecessary Drugs
Implications of Drug Therapy for the Elderly
Guidelines and Medical Practice

Chapter 16: Pain (Mis)Management Litigation     
Pain (Mis)Management: An Emerging Care Issue
Pain Incidence and Prevalence
What is Pain?
Pain Recognition In Long-Term Care: Misconceptions And Barriers
Assessing Residents' Pain
Resident Care Plan and Pain Management
      Does Pain Management Result in Chemical Restraint?    
Proving Adherence to or Deviation from the Standard of Care in a Pain (Mis)Management Case    
    Litigation and Pain (Mis)Management
   Documentation of Pain Management

Chapter 17: Investigation of Billing Fraud
Government Agencies Involved in Fraud and Abuse Investigations
Overview of Federal Fraud and Abuse Laws
Fraud and Abuse
Public Payor Programs
Nature of Nursing Home Reimbursement Reimbursement Issues    
Quality-of-Care Issues Related to Fraud and Abuse
Other Fraud and Abuse Cases in the Nursing Home
Attorney-Client Privilege
The Future of Billing Fraud Investigations

Chapter 18: Tampering with Medical Records     
Definitions of Spoliation
Spoliation Inference
Implications of Spoliation
Remedies for the Person Harmed By Spoliation
    Organizing and Analyzing Medical Records
Techniques for Tampering With Medical Records
Tampering with Records Relating to Common Liability Issues
Documents Examiners
Email is Discoverable

Part IV
Defense Perspectives

Chapter 19: Defending Long-Term-Care Facilities: Unraveling Clinical Outcomes from the Natural History of
Keeping Frail, Elderly Residents Safe: Facility Responsibility
The Aging Process
Basic Geriatric Principles
Clinical Outcomes of the Aging Process
    Refusal of Care and the Ethics of Informed Consent

Chapter 20: Defense Attorney's Perspective     
Preliminary Considerations
Documentation Issues
Additional Documents to be Obtained
Cooperation of Nursing Home Personnel
Common Defense Strategies
Responding to the Pleadings
Preparation for Deposition
Experts
Common Types of Cases

Chapter 21: Claims Adjuster's Perspective on Nursing Home Cases
Reporting Potential and Asserted Claims
Investigative Process
Investigative Report
Insurance Coverage
Defense Counsel
Suit/Budget Report
Tools of Assistance
Reserving
Mediation and Alternative Dispute Resolution
Trial
---
Share this Product
---
More from this collection