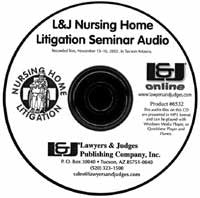 Nursing Home Litigation Seminar Audio CD
---
Our successful November 2002 seminar on nursing home litigation litigation is now available on CD-ROM.
This CD is a great opportunity to hear directly from some of our authors and may qualify for CLE self-study credits in some states.
Hear from some of the top experts in these fields as they discuss the wide range of issues involved in litigating personal injury cases. You will also receive a complete set of the seminar notes and handouts prepared by the speakers.
Speakers include:
Patricia W. Iyer: Tampering with Medical Records
J. Scott Myers: Nuts and Bolts: Defending the Nursing Home
Jeffrey M. Levine: Medical and Legal Aspects of Chemical and Physical Restraint in the Nursing Home
David H. Brinton: Maximizing Damages in Nursing Home Malpractice Cases
James O'Donnell: Medication Issues and Injuries in the Nursing Home Resident: The Pharmacist's Role Med League Support
Jeffrey M. Levine: Wound Care: Surgical Wounds, Peripheral Vascular Disease and Decubitous Ulcer Cases
Ruben J. Krisztal: Handling Witnesses in Nursing Home Cases: Interviewing and Initial Screening, Investigation, Deposition, Preparation, and Postjudgment
Steven Liebel: The Best Medical Malpractice Suit: The Initial Steps to Successful Nursing Home Litigation.
---
Share this Product
---
More from this collection