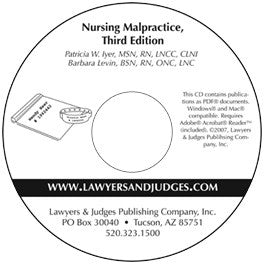 Nursing Malpractice Third Edition CD-ROM
---
This is a CD-ROM containing PDF documents of the book.
An outstanding reference for the attorney, legal nurse consultant, insurance claim adjuster, healthcare risk manager, or healthcare facility leader involved in a nursing malpractice claim, the third edition of Nursing Malpractice brings you a wealth of information and resources for your case. This extensively revised and updated edition of a classic covers the spectrum of the nursing process—from patient admittance to lawsuit. Packed with tips and techniques this volume reveals typical ways in which nurses try to cover up their mistakes, shows how nurses are caught in a difficult position between the insurance company lawyers and hospital procedures, and gives a comprehensive overview of nursing responsibilities.
Nursing Malpractice, Third Edition is divided into seven sections to assist you in locating the information you need, when you need it. Part One—Patient Safety presents a comprehensive look at medical errors, the factors that influence them, risk reduction programs, and patient safety goals. Part Two—Nursing Practice discusses nursing practice and documentation including nursing and employment law and today's healthcare environment including new methods of keeping records and current privacy issues. Part Three—Common Areas of Nursing Liability is a comprehensive overview of clinical nursing liability areas including new sections on orthopedics, neurology, assisted living, managed care, and emergency medical services. Part Four—Advanced Roles discusses two areas of advanced practice nursing: the nurse anesthetist and the nurse midwife. Part Five—Causes of Action examines sources of liability within nursing practice. New chapters are devoted to nosocomial infections, intravenous therapy and wounds. Another new chapter deals with criminal and liability issues with nurse serial killers. Part Six-Damages addresses the impact of injuries on the patient's future. This section includes areas such as current and future medical needs, vocational issues, economic losses, and pain and suffering. Part Seven—Litigation of Nursing Malpractice Claims focuses on the legal process from the point of view attorneys for both the plaintiff and defense. It also covers screening nursing malpractice cases, working with insurance claims adjusters, working with other experts, trial themes and techniques, and jury consulting.
In short, this comprehensive CD-ROM is an excellent and important addition to your nursing malpractice library.
Topics include:
The foundations of nursing practice
Medical errors
Healthcare safety and risk management
Today's healthcare environment
Nursing practice
Nursing and employment law
Nursing documentation
Obstetrical malpractice issues
Neonatal and pediatric malpractice issues
Emergency care malpractice issues
Critical care malpractice issues
Perioperative malpractice issues
Nurse anesthesia malpractice issues
Nurse midwife malpractice issues
Psychiatric malpractice issues
Medical surgical malpractice issues
Subacute and long term care malpractice issues
Assisted living malpractice issues
Managed care malpractice issues
Home care malpractice issues
Medication errors
Infections in healthcare settings
Intravenous therapy malpractice issues
Wound treatment malpractice issues
Pain and suffering malpractice issues
Healthcare fraud and nursing
Nurses serial killers
Lifecare planning
Working with vocational experts
Working with economic experts
Working with expert witnesses
Working with Insurance adjusters
Working with legal nurse consultants
Screening cases
The plaintiff attorney's perspective
The defense attorney's perspective
Working with the jury
Demonstrative evidence
Themes for nursing malpractice cases
Trial techniques
Understanding medical terminology
---
Share this Product
---
More from this collection