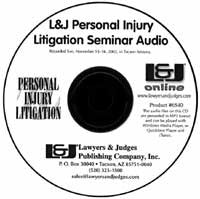 Personal Injury Case Seminar Audio CD
---
Our successful November 2002 seminar on personal injury litigation is now available on CD-ROM. This CD is a great opportunity to hear directly from some of our authors and may qualify for CLE self-study credits in some states. Hear from some of the top experts in these fields as they discuss the wide range of issues involved in litigating personal injury cases. You will also receive a complete set of the seminar notes and handouts prepared by the speakers.
Speakers include:
Ron Sprague: When Airplanes Crash: A Primer for Aviation-Related Claims
Rosie Oldham: Demonstrative Evidence
John O. Ward: The Forensic Economist in Personal Injury and Death Actions: Issues of Discovery, Foundation and Admissibility of Opinion
Dale Haralson: Litigating Train Accident and Railroad Crossing Cases
Jospeh Asselta: Product Liability: Past, Present, and into the 21st Century
Richard Lucas: Opening Statements: Effective Communication and Persuasion Techniques for Lawyers
M. Papadakis: Safety--The Place Where Liability and Egregious Conduct Hang Out
Turner W. Branch: From the "Frye"-ing Pan into the "Tire"
---
Share this Product
---
More from this collection