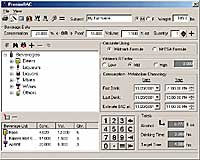 PremierBAC: Blood Alcohol Concentration Software
---
This software program makes it a snap to calculate blood alcohol concentration.
Written by the author of Basic Vehicle Motion Analysis, this software has been designed with accident reconstructionists and lawyers in mind. It can calculate the person's peak blood alcohol concentration, the person's BAC after a specified time after the last drink, and it also gives you the option of using the two industry-standard equations for better accuracy.
Here is how it works. You provide the person's sex and weight, and either type in the fluid ounces and proof of the drinks, or select common drinks like brand-name beers or daiquiris from a list. The list of common beverages includes their serving size and proof so you don't have to know either of those things! You can request a BAC from a specific time since last drink, as well. Next, you choose from the two standard equations for calculating BAC: the Widmark or the NHSTA equation. You can easily perform both equations for the same person to verify accuracy. After the necessary information is entered, you will see the person's peak BAC and BAC after your specified time period. If you prefer to use the equations without the wizard to help you calculate the amount of alcohol in various drinks, you can do that too! This program is very versatile and contains very useful help screens to guide you on your way.
Unique aspects of the software that make PremierBAC accurate and versatile include:
PremierBAC makes it possible to calculate blood alcohol concentration values using both of the currently prevailing formulas: the Widmark formula and the formula developed by Dr. Moskowitz and promoted by the National Highway Traffic Safety Administration (NHTSA). Thus, it is possible to easily compare and contrast the values determined by each of these equations.
It is possible to alter (tweak) values such as metabolism rates and absorption rates, if desired, to suit a particular subject.
PremierBAC provides a printout that can be filed for later use, without recalculation, and which can be used as a deposition or trial exhibit.
PremierBAC permits the user to use drink-alcohol concentration data that is included in the database of the program, and permits the user to modify, delete or add to the data base.
Note: CD-ROM is compatible with Windows 95, ME, NT and XP only. It is NOT compatible with Windows Vista at this time. It performs best with a minimum of 32MB RAM.
---
Share this Product
---
More from this collection