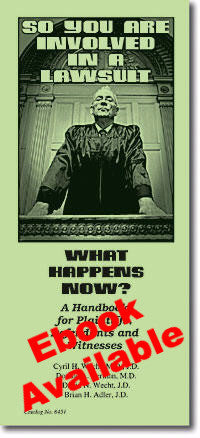 So You Are Involved in a Lawsuit -- What Happens Now?
---
This book is only available as an E-book. Click here to purchase and download:
Being involved in a lawsuit either as a plaintiff, a defendant, or simply as a witness with knowledge relevant to the suit, can be an unnerving experience. This handbook is intended to outline certain of the steps and procedures that are part of the legal process, as well as to familiarize the reader with certain of the rules, definitions, "do's," "don't's," and other important aspects of the judicial system and its processes.
This book is no longer available in print form.
---
Share this Product
---
More from this collection