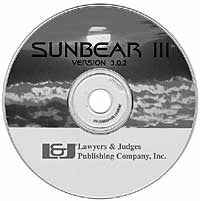 Sunbear III—Precise Sun-Moon Positioning Software
---
This unique software will give you the ability to determine the exact location of the sun and the moon anywhere in the world at any time and date from 1752 to 2900 A.D. All you need to know is the zip or postal code, date and time the accident occurred, and this program will do the rest. If you don't know the postal code or it is not in the database, you can enter the latitude and longitude of the location instead. The program comes pre-loaded with a database containing all the Postal Zip Codes in the United States and two provinces in eastern Canada. The Database is fully customizable to the area in which you live. Postal codes and latitude and longitude data for other locations, such as western Canada and the United Kingdom can be entered and saved for future use. *Does not run on Windows 10.
Example:

Consider the case of an elderly man crossing the road from south to north and a young girl traveling on the road east to west. The magnetic road alignment was 276 Degrees. Latitude and longitude was obtained from topographical maps and since this occurred in a city, the time of the event was nailed down to two or three minutes.

By running the SUNBEAR III program it shows the sun would be positioned along a magnetic bearing of 277 Degrees. Right in line with the westbound driver. Further, with the sun's vertical angle at that time, you are able to place the sun just at the top of the trees!



---
Share this Product