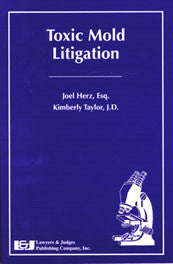 Toxic Mold Litigation 1st Edition
---
Author: Joel Herz, Kimberly Taylor

ISBN 10: 1-930056-44-3

ISBN 13: 978-1-930056-44-2

Copyright Date Ed: July 30, 2005

Pages: 223 pages

Binding Information: Paperback

Size: 6 ✕ 9 Inches (US)
Mold law and litigation is a complex new area and often requires numerous professional disciplines to address it. Detailed information is often difficult to find and this book is designed to provide you with that information. It provides you critical background information to put the "mold issue" in context, including information on exposure, illness, allergic reactions, types of claims filed in mold litigation, and insurance issues. It offers a detailed look at the most important elements of mold law in critical States where mold litigation has been prevalent. It also offers strategic advice to assist parties with mold litigation.
The book opens with a chapter going over basic information about mold and mold law, which is designed to familiarize you with the issue and place it in context. The next chapter is an in depth discussion of evidence and evidentiary standards in mold litigation, a topic of importance when working on mold cases. The rest of the book is devoted to detailed chapters on mold law and litigation, in states where there is a high incidence of mold litigation. These chapters provide you with valuable models if you are currently writing mold legislation, for other states, or are involved with mold cases around the country.
This book is an indispensable guide for anyone interested or currently participating in mold litigation.
Table of Contents
Part One
Chapter 1: Mold
1.1 Introduction
1.2 Legal Aspects of Mold Litigation Overview
1.3 Legal Theories
1.4 Insurance Issues
1.5 Statute of Limitations
1.6 Summary
Part Two
Chapter 2: Evidentiary Standards in Toxic Mold Litigation
2.1 Introduction
2.2 Expert Witness Evidentiary Standards
A. The Frye "general acceptance" test
B. The Daubert test
C. States applying a hybrid system or their own evidentiary standards
D. Rule 703 of the Federal Rules of Evidence
2.3 Evidentiary Standards in Mold Cases
A. Manual of Scientific Evidence
B. Allergic reactions resulting from exposure to mold
C. Infection resulting from exposure to mold
D. Exposure to toxic mold
2.4 Causation
A. General causation
B. Specific causation
C. Case law illustrating causation principles
2.5 Preparing Data for Trial
2.6 Conclusion
Part Three
Chapter 3: Toxic Mold Law in Arizona
3.1 Introduction
3.2 Possible Explanations for Arizona's Mold Problems
---
Share this Product
---
More from this collection