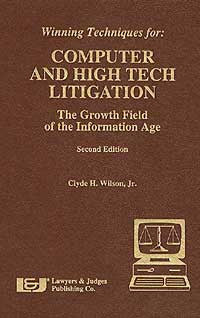 Winning Techniques for Computer & High Tech Litigation
---
Author: Clyde H. Wilson, Jr.
ISBN-10

: 0-913875-13-9

ISBN-13

: 978-0-913875-13-1

Copyright Date Ed: February 2, 1996
Pages: 406 
Binding Information: Casebound
Size:

6 x 9 inches
The author explains, in detail, how to win a computer software piracy case
Endorsed by the Commercial Business Litigation Section of The Academy, this book should be of great value as an aid to litigators in high tech, although it is recommended to all attorneys advising clients in the computer and high tech field -- those whose primary roles are to prepare and negotiate contracts, prosecute patent, copyright and trademark applications.
Wilson uses his twenty-five years of experience in trying all kinds of lawsuits -- computer and high tech cases in particular in recent years -- to give practical pointers on investigating, preparing, negotiating and trying complex and difficult technology-based cases.
Whether you have little prior knowledge of the field or already know about the basics of technology and the law, this book is your best resource. This book has an excellent introduction to computer and software technology, as well as a summary of current statutory and case law in the principal areas of high-tech litigation. It also covers the discovery and admissibility of computer-related evidence. The author includes a collection of tips, strategy and insights into high-tech litigation, both for court and alternate dispute resolution forums. Finally, the author discusses pretrial investigation and discovery in performance failure cases.
The author has updated this edition by adding information on state-of-the-art technology, including computer networks and the Internet, online services and bulletin boards, optical disks and CD ROMs, multimedia systems, virtual reality, and artificial intelligence and neural networks.
Topics covered:
What is computer and high tech litigation?
Are there many cases in the field?
The technology
The strategy
Copyright
Patents
Trade secrets
Trademark and service mark
Deficient performance
Other statutory violations
The evidence
Table of Contents
Chapter 1. Introduction
1.01 What is Computer and High Tech Litigation?
1.02 Are There Many Cases in This Field?
1.03 Use of This Book
Section 1: The Technology
Chapter 2. The Technology
2.01 Functions of Computers
2.02 An Overview of Computer Systems
2.03 A History of Computers
2.04 IBM's First Computer
2.05 Vacuum Tube Computers
2.06 The Stored Program Concept
2.07 First Generation 1951 to 1958
2.08 Second Generation 1959 to 1964
2.09 Third Generation 1965 to 1971
2.10 Fourth Generation 1972 to Present
2.11 ComputerMemory
2.12 Read Only Memory (ROM)
2.13 Random Access Memory
2.14 Main/Primary Memory
2.15 Secondary Memory
2.16 Diskettes
2.17 Secondary Memory Hardware
2.18 Fixed (Hard) Disk Drives
2.19 Tape Drives
2.20 Central Processing Unit
2.21 Three Basic Functions of the CPU
2.22 The CPU Cycle in Detail
2.23 ALU Logical Functions
2.24 Instruction Set
2.25 CISC and RIS
2.26 Input/Output/Peripheral Devices
2.27 The Keyboard
2.28 Video Display Terminal
2.29 Analog Computers
2.30 Speed and Efficiency and Digital Computers
2.31 Operating Systems
2.32 Control Programs
2.33 ServicePrograms
2.34 Compilers and Interpreters
2.35 Relative Development of Hardware and Software
2.36 The Binary Number System
2.37 Octal and Hexadecimal Number System
2.38 Bits, Nibbles, and Bytes
2.39 Negative Numbers and Fractions in Binary
2.40 Comparison of Magnitude, Signed Representation and Twos Complement Numbers
2.41 Letters and Symbols in Binary
2.42 Machine Language: A Low Level Programming Language
2.43 High Level Programming Languages
2.44 Computer Software
2.45 Writing a Program
2.46 Assembling
2.47 Compatibility and Portability
2.48 Interpreted Programs
2.49 Development of Software
2.50 Structured Programming
2.51 Structural Design
2.52 Application Programs
2.53 Data Manager Programs
2.54 Database Security
2.55 Data Files and Arrays
2.56 Word Processing
2.57 Spreadsheets
2.58 Graphics Programs
2.59 Integrated Programs
2.60 Desktop Publishing
2.61 Communications Software and Modems
2.62 Computer Networks and the Internet
2.63 Computer Crime
2.64 Security Measures
2.65 Preparation for a Data Processing Disaster
2.66 Bulletin Boards
2.67 Online Services
2.68 Optical Disks/CD-ROM
2.69 Multimedia Systems
2.70 Virtual Reality
2.71 Artificial Intelligence p>
Section 2: The Strategy
Chapter 3. The Strategy
3.01 Investigation and Discovery of a High Tech Misappropriation Case
3.02 Technical Experts: Selection and Use
3.03 Preliminary Relief
3.04 Other Remedies of Plaintiff
3.05 Trial
3.06 Alternative Dispute Resolution
3.07 Settlement Negotiations
3.08 Technology Performance Failure: Investigation and Discovery
Section 3: The Law
Chapter 4. Copyright
4.01 Basics of Copyright Law
4.02 Specific Situations in Copyright Litigation
4.03 Ownership Issues
4.04 Remedies
4.05 Pleading
4.06 Defenses
Chapter 5. Patents
5.01 Statutory Limitation On Patent Practice
5.02 Jurisdiction
5.03 Venue
5.04 Definition of Patent
5.05 Parties
5.06 Types of Patents
5.07 Patentability Prerequisites
5.08 Patent Applications
5.09 Components of Issued Patents
5.10 Components of Issued Patents
5.11 Infringement of Utility Patents
5.12 Application of Utility Patents to Computer Software
5.13 Notice
5.14 Preliminary Injunctive Relief
5.15 Pleading
5.16 Damages
5.17 Attorney's Fees, Costs and Willful Infringement
5.18 Patent Ownership Issues
5.19 Patent Law Preemption of State Law
5.20 Defenses and/or Counterclaims
Chapter 6. Trade Secret
6.01 Background Information
6.02 State Law v. Federal Law
6.03 The Restatement
6.04 The Uniform Trade Secrets Act
6.05 What information is a Trade Secret
6.06 Trade Secret Subject Matter
6.07 The Secrecy Requirement
6.08 Definition of Misappropriation
6.09 What Constitutes Reasonable Efforts to Maintain Secrecy
6.10 Using Confidentiality Contracts to Preserve Trade Secrets
6.11 Proper and Improper Means by Which Defendant Can Obtain Trade Secret Information under UTSA
6.12 Application of Trade Secret Protection to Software
6.13 Proving Misappropriation
6.14 Injunctive Relief under the UTSA
6.15 Damages under the UTSA
6.16 Pleading
6.17 Venue
6.18 Statutes of Limitations Under the UTSA
6.19 Protection of Trade Secret Status when Disclosed to Government Agencies
6.20 UTSA Not Preempted by Federal Patent and Copyright Law
6.21 Avoiding Liability for Trade Secret Misappropriation Claims
6.22 Defenses
Chapter 7. Trademark and Service Mark
7.01 Importance of Trademark Law
7.02 Definition of Trademark and Service Mark
7.03 Origination of Protection for Trademark and Service Mark
7.04 Jurisdiction
7.05 What Can Be Trademarked?
7.06 Distinctiveness
7.07 Prior Use and Abandonment
7.08 Descriptiveness
7.09 Application of Trademark Law to Computer Technology
7.10 Infringement
7.11 Remedies Under Federal Trademark Law
7.12 Attorney's Fees
7.13 Enforcement of Trademarks Through Customs
7.14 Defenses
7.15 Recent Developments in Trademark Law
7.16 Other Technology Related Cases
7.17 Federal Unfair Competition
Chapter 8. Deficient Performance
8.01 Prelitigation Steps
8.02 Contract Considerations
8.03 Does Article 2 of the Uniform Commercial Code Apply in Computer Cases?
8.04 Express Warranties Under the Uniform Commercial Code
8.05 Implied Warranties
8.06 Limitation of Damages
8.07 Exclusion of Consequential Damages
8.08 Application of Laches to Exclude Remedies
8.09 Remedies for Breach of Contract
8.10 Remedies for Breach of Warranties
8.11 Federal Regulation of Consumer Warranties
8.12 Tort Actions Generally
8.13 Misrepresentation or Fraud
8.14 Strict Liability in Computer Litigation
8.15 Negligence 8.16 Computer Malpractice
Chapter 9. Other Statutory Violations
9.01 Federal RICO
9.02 "Baby" FTC Acts
SECTION 4: The Evidence
Chapter 10. The Evidence
10.01 Discovery of Computer Related Evidence
10.02 Admissibility of Computer Related Evidence
---
Share this Product
---
More from this collection