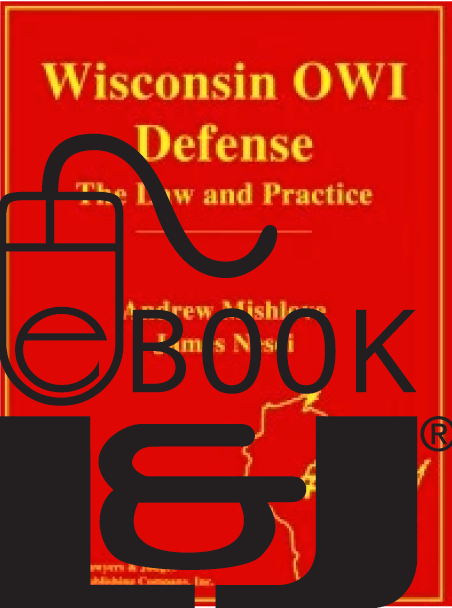 Wisconsin OWI Defense: The Law & Practice PDF eBook 1st Edition
---
Author: Andrew Mishlove, James Nesci
    •    ISBN 10: 1-933264-31-4
    •    ISBN 13: 978-1-933264-31-8
    •    Copyright Date Ed:  June 20, 2013
    •    Pages: 336
    •    PDF eBook
For even the most seasoned attorney admitted to practice in the State of Wisconsin, defending OWI cases has always presented special challenges. Today mounting a successful defense is more difficult than ever. Now you have the advantage with Wisconsin OWI Defense: The Law and Practice. This text and supplementary DVD contains the most important information to help you attain a successful verdict.
Written by Andrew Mishlove and James Nesci, both members of the National College for DUI Defense,Wisconsin OWI Defense: The Law and Practice ensures that you understand the chemical, biological and technological concepts and issues underlying OWI prosecution and defense in the State of Wisconsin. The authors provide the most up-to-date information available on key areas of OWI law in Wisconsin including: OWI Investigations, Driving and Field Sobriety Testing, Drug Recognition, Evaluation and Chemical Testing, Blood Alcohol Calculations, Pre-trial Investigations and Motions, Practice, Plea Offers and Agreements, OWI Trial Procedures, and more.
Many practical tools and applications designed to streamline and simplify the complex OWI defense process have been developed along with this book. They are all included on a bonus DVD--so you can locate, review and print them out in a matter of seconds. The companion DVD contains NHTSA studies, articles and visual detection videos.
Lawyers & Judges has published twenty state-specific DUI defense reference books. A practitioner in Colorado raved in the Colorado Lawyer that Colorado DUI Defense: The Law and Practice is "a must-have resource" and would make "a nice gift for the lawyers in your life who practice DUI defense." The Wisconsin Lawyer reviewer gave Wisconsin OWI Defense: The Law and Practice a touchdown review, calling the book "the best book I have read pertaining to Wisconsin operating-while-intoxicated (OWI) law, and one of the best in dealing with the substance of OWI law."
Book Topics Include:
Types of OWI
Role of the Motor Vehicle Division
Pre-trial investigation
OWI investigations
Driving behavior
Field sobriety testing
Drug recognition
Chemical testing for alcohol and drugs
Blood alcohol calculations
Use of expert witnesses
Pre-trial motions
Plea offers
Revised sentencing charts
OWI jury trial information
Client relations
Ethics and advertising
DVD topics include:
USDOT "Drugs That Impair Driving" student manual and teacher manual
USDOT "DWI Detection and Standardized Field Sobriety Testing" student manual and teacher manual
SFST validation studies
USDOT "SFST Refresher Training Course" student manual and teacher manual
MVD court abstracts
NHTSA "The Detection of DWI Motorcyclists" brochure
NHTSA "Use of Sobriety Checkpoints for DUI" article
NHTSA driving and blood alcohol concentration studies
NHTSA visual detection videos
And more!
Table of Contents
Acknowledgements
How to Use This Book
Table of Cases
Introduction
Chapter 1: Lawyer Advertising
1.1 Ethical Issues
1.2 Advertising Resources
Endnotes
Chapter 2: Client Relations
2.1 Meeting the Prospective Client
2.2 Retainer Agreements
2.3 Fees
2.4 IOTA
2.5 Communication
2.6 Client Interview
Endnotes
Chapter 3: Operating While Under the Influence of an Intoxicant: Overview
3.1 Wisconsin OWI Law
3.2 Wis. Stat. § 346.63
3.3 Commercial Drivers Licenses
3.4 Prohibition Against the Employment of Operators Carrying Passengers for Hire
3.5 Operating a motor vehicle while under the influence of illegal drugs
3.6 OWI with a Minor under Age 16 in the Vehicle at the Time of the Offense
3.7 Causing Injury to Another while Operating a Vehicle While Intoxicated (OWI Causing Injury)
3.8 Causing Great Bodily Harm or Homicide by Intoxicated Use of a Vehicle (OWI Causing Great Bodily Harm or Death)
3.9 Refusal Violations
3.10 Legislative Limits on Plea Negotiation
3.11 Penalties & Sentencing under Wisconsin OWI Law
3.12 Ignition Interlock Device
Endnotes
Chapter 4: Department of Transportation, Suspension, Revocation and Administrative Matters. Illinois Drivers
4.1 Suspension and Revocation
4.2 Administrative Suspensions
4.3 Revocations and the Out of State Driver
4.4 Driver's License Reinstatements and Renewals
Endnotes
Chapter 5: Pre-Trial Motions
5.1 Overview
5.2 Procedural Motions
5.3 Substantive Motions — Search and Seizure
5.4 Stop, Detention, Preliminary Breath Test and Arrest
5.5 Motion to Suppress Evidence Derived from a Forced Blood Draw
5.6 Motion to Suppress Statements
5.7 Collateral Attack Motions
5.8 Violation of the Right to an Independent Test
5.9 Motions in Limine
5.10 Daubert Motions
Endnotes
Chapter 6: Implied Consent Violations: Refusal Charges
6.1 Overview
6.2 Informing the Accused
6.3 Procedural Issues in a Refusal Case
6.4 Refusal Hearings
Endnotes
Chapter 7: Plea Negotiations
7.1 Overview
7.2 Waiver of Rights
7.3 Collateral Consequences
7.4 Exposure of Prior Offenses
7.5 Immigration Consequences
7.6 Lesser Offenses
7.7 Factors that May Be Changed Subject to Wis. Stat. § 967.055
7.8 Tag-Along Citations
Endnotes
Chapter 8: Investigation and Trial
8.1 Investigation: Open Records Requests, Discovery and Fact-Finding
8.2 Trial Overview
8.3 Voir Dire and Jury Selection
8.4 Opening Statements
8.5 Cross-Examination
8.6 Direct Examination
8.7 Closing Argument
8.8 Jury Instructions
8.9 Sentencing
Endnotes
Chapter 9: Field Sobriety Testing and Driving
9.1 Overview: National Highway Traffic Safety Administration (NHTSA)
9.2 Driving Behavior Studies and Guides
9.3 Standardized Field Sobriety Testing (SFST) Validation Studies
9.4 Legal Analysis and Summary of the SFST Validation Studies
9.5 Standardized Field Sobriety Test Battery
9.6 Three Doctrines of Field Sobriety Test Evidence Admissibility: Lay Opinion under 701, Expert Opinion under 702, or a Combination of the Two
9.7 Reliability of FST's As Applied
9.8 Commonly Used Non-Standardized Non-Validated Field Sobriety Tests
9.9 Videotaping the Driving and Investigation
Endnotes
Chapter 10: Drug Recognition Evaluation
10.1 Overview
10.2 DRE Statutory Law
10.3 Per Se Statutes Comparison
10.4 Impairment Statutes Comparison
10.5 OWI-Drugs
10.6 Defenses
10.7 Implied Consent Laws Comparison
10.8 DRE Case Law under Wis. Stats. 907.02
10.9 The 12-Step DRE Protocol
10.10 Deconstruction and Analysis of the 12-Step DRE Protocol
10.11 Effects of Various Drugs
10.12 Drug Evaluation Classification Protocol (DECP)
Endnotes
Chapter 11: Chemical Testing
11.1 Introduction
11.2 The Law of Breath Testing
11.3 Evidential Breath Testing: Intoximeter EC/IR-II®
11.4 Breath Testing: Methods of Attack
11.5 Simulators and Standards
11.6 Blood Testing: From the Vein to the Lab
11.7 Headspace Gas Chromatography
References
Chapter 12: Blood Alcohol Calculations for Attorneys
12.1 Blood Alcohol Calculations for Attorneys
12.2 Determining the One-Drink Potential
12.3 Elimination and Retrograde Extrapolation
12.4 White's Retrograde Extrapolation
12.5 Partition Ratio Conversions
12.6 Unit Conversions
Endnote
Chapter 13: Expert Witnesses
13.1 Who is an Expert? Expert versus Lay Opinion Testimony
13.2 Field Sobriety Test Evidence: Lay Opinion Under 701 or Expert Opinion Under 702
13.3 The Decision as to Whether to Use a Defense Expert
13.4 Daubert and Qualification of the Expert
13.5 Pretrial Preparation
13.6 Direct Examination of the Defense Expert Witness
13.7 Cross of the State's Expert Witness
Endnotes
Chapter 14: Forms and Appendices
14.1 Administrative Review and Judicial Review
14.2 Appeals
14.3 Discovery
14.4 Initial Pleadings
14.5 Medical Forms
14.6 Motions
14.7 Open Record Requests
14.8 Refusal
14.9 Sentencing Forms
14.10 Stipulations
14.11 Subpoena Duces Tecum
14.12 Substitution Forms
14.13 Retainer Forms and New Client Packet
Appendix A: The Aging Process and Field Sobriety Tests
Appendix B: DWI—Modern Day Salem Witch Hunts
About the Authors
Index
---
Share this Product
---
More from this collection