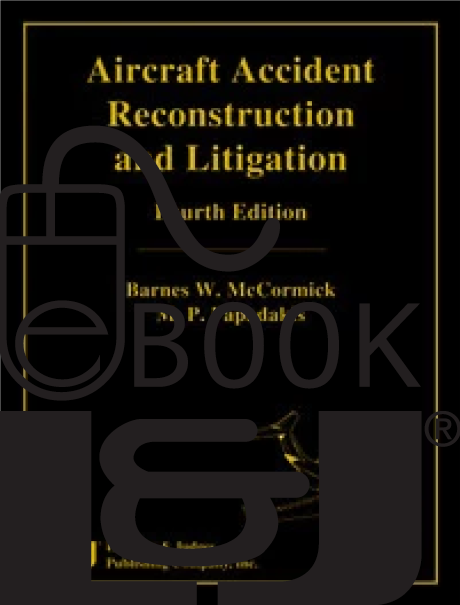 Aircraft Accident Reconstruction & Litigation, Fourth Edition PDF eBook
---
Authors:

 

Barnes W. McCormick, Myron P. Papadakis;

 

Contributors:

 

Marc S. Moller, J. D. Johnson, Michael L. Slack, Russ M. Herman, Steve Herman, Joseph T. Cook, Kathlynn G. Fadely, Ron A. Sprague, Michael C. Siboni, Robert Martin, Robert J. Celedonia, III, Michael Olin, Juanita M. Madole, Steven R. Pounian, J. Denny Shupe, Tom H. Davis, Alan E. Diehl, Wayne Fisher, Bob Gibbins, Mark H. Goodrich, Robert Ware Killorin, Vincent A LaMonaca, Taylor Leap, Nicole Lind, Don Maciejewski, Paul McCarthy, Rockne W. Onstad, Emmanuel Papadakis, Alejandro Perez, Michael W. Perrin, Arthur Sims,
ISBN 10:

 

1-933264-76-4

ISBN 13:

 

978-1-933264-76-9
Copyright Date Ed:  March 07, 2011
Pages:

 

928
PDF eBook
This book provides a basic source of technical and legal information to participate intelligently in the search for probable causes and discussion of the legal aspects of aircraft accidents. It should be especially helpful to lawyers and engineers embarking on investigative careers. It includes a list of experts from many disciplines and a worldwide list of aviation addresses and organizations, as well as data retrieval sources.
Readers will appreciate the book's refreshing review of the elements of aerodynamics, structural design, powerplants, aircraft control techniques, as well as the nuances of applicable law such as product liability and negligence. The appendix itself is a learning experience.
This book could be considered a postgraduate guide for the hardware-oriented aircraft accident investigator, especially the sections on human errors and human factors.
This fourth edition includes chapters on the Freedom of Information Act, safety, discovery, spoliation of evidence, Death on the High Seas Act, tort litigation and more.
TOPICS INCLUDE
Aerodynamic performance, stability and control and aircraft systems
Aviation accident guide for attorney and expert
Causal factors of aircraft accidents and correlative results
Compendia of state laws
Determination of probable cause
Helicopters
Structures, load factors and failures
The air traffic control system and flight in an adverse environment
TABLE OF CONTENTS
Foreword
Section I: Investigative Techniques
Chapter 1: Aviation Accident Reconstruction and Litigation: A Guide for the Attorney and Expert by Dr. Barnes W. McCormick
Chapter 2: Aerodynamics, Performance, Stability, and Control by Dr. Barnes W. McCormick
Chapter 3: Structures, Load Factors and Failures by Dr. Barnes W. McCormick
Chapter 4: Propulsion Systems by Dr. Barnes W. McCormick and M. P. Papadakis
Chapter 5: Aircraft Systems by Dr. Barnes W. McCormick and M. P. Papadakis
Chapter 6: The Air Traffic Control System and Flight in an Adverse Environment by Dr. Barnes W. McCormick and M. P. Papadakis
Chapter 7: The FAA, NTSB, Military and Other Organizations by M. P. Papadakis and Paul McCarthy
Chapter 8: Causal Factors of Aircraft Accidents and Correlative Results by M. P. Papadakis
Chapter 9: Determination of Probable Cause by M. P. Papadakis
Chapter 10: Additional Investigative Techniques by M. P. Papadakis
Chapter 11: Theory into Practice: The Summation…The Bent Metal Speaks by M. P. Papadakis
Chapter 12: Clues by M. P. Papadakis
Chapter 13: Composite Structures and Substructures in Aircraft by Mark H. Goodrich
Chapter 14: Data Recovery by M. P. Papadakis
Chapter 15: Human Performance by Dr. Alan E. Diehl
Chapter 16: Manufacturers' Safety and Quality Control Programs: Areas of Inquiry and Investigation by M. P. Papadakis
Chapter 17: Quality Control, Quality Assurance, Total Quality Programs and Quality Standards by M. P. Papadakis and Dr. Emmanuel Papadakis
Chapter 18: Air Navigation in the Brave New World by M. P. Papadakis
Chapter 19: Critical Review of Safety Programs by M. P. Padadakis
Chapter 20: Safety "Lessons Not Learned" by M. P. Papadakis
Chapter 21: Paperwork: When an Airliner Flies a Tree Must Die by M. P. Papadakis
Section IIa: The Law
Chapter 22: Concepts of Law by M. P. Papadakis
Chapter 23: Products Liability Litigation—Past, Present and Into the 21st Century by J. Denny Shupe and Vincent A. LaMonaca
Chapter 24: When Uncle Sam Pays: Government Liability in Tort Litigation by Kathlynn G. Fadely
Chapter 25: The Federal Tort Claims Act: The Plaintiff's Perspective by Joseph T. Cook
Chapter 26: The Federal Freedom of Information Act (FOIA): Its Application and Use in Aircraft Crash Litigation while Including Trains, Trucking, Ships and Heavy Equipment by J. D. Johnson
Chapter 27: Freedom of Information Act: Past, Present and Future Aspects for the Aviation Industry by Nicole E. Lind
Chapter 28: Choosing and Keeping Your Favorable Law by Tom H. Davis
Chapter 29: International Air Crash Cases: The Opportunities and Pitfalls of Treaty Law by Steven R. Pounian
Chapter 30: Handling a Major Air Disaster by Michael Olin
Chapter 31: The Death on the High Seas Act by Juanita M. Madole
Chapter 32: The Crash Didn't Kill Him. It Was the…Second Impact Cases by M. P. Papadakis and Robert J. Celedonia III
Chapter 33: Spoliation of Evidence by Russ M. Herman and Steve Herman
Chapter 34: Scientific Evidence since Daubert: A Plaintiff's Perspective by Michael L. Slack
Chapter 35: General Aviation Revitalization Act of 1994 by Alejandro R. Perez
Chapter 36: Litigation in Terrorism: Evolution and Constitutionality Effects of United States Aviation Law by Arthur Sims
Chapter 37: Civilian Aircraft Shoot Downs and Their Legal Implications by Taylor Leap
Section IIb: Helpful Techniques
Chapter 38: Win through Discovery by Marc S. Moller
Chapter 39: Defending Military Aircraft Accident Cases by Ron A. Sprague
Chapter 40: A Manufacturer's Money, Product, and Reputation by Robert Martin
Chapter 41: Defending Manufacturers in Aviation Product Liability Cases by Michael C. Siboni
Chapter 42: Preparing Clients to Testify by Robert Ware Killorin
Chapter 43: Cross-Examination of Expert Witnesses by Bob Gibbins
Chapter 44: Cross-Examination of the Hostile Witness by Rockne W. Onstad
Chapter 45: Dealing with Pandora: "Eggshell"and Other Special Witnesses by Michael W. Perrin
Chapter 46: Final Argument by Wayne Fisher
Chapter 47: Ten Ways to Screw Up a Good Air Crash Case by Donald M. Maciejewski
Chapter 48: Tips for Aviation Litigation Cases by M. P. Papadakis
Section III: A Third Perspective
Chapter 49: Safely Retiring by M. P. Papadakis
Chapter 50: Lessons Learned in the Wreckage Field (Investigative Wisdom Overheard at Various Accident Locations)
Chapter 51: Checklist for In-House Aviation Accident Investigations by M. P. Papadakis
Chapter 52: Automation: Precursor to Disaster by M. P. Papadakis
Section IV: Appendices
Appendix A: Important Aviation Addresses
Appendix B: Internet Resources, compiled by M. P. Papadakis
Appendix C: Compendium of State Laws
Appendix D: Reforms by State
Appendix E: Civil Aviation Case Checklist for General Aviation and Commercial Air Crashes
Appendix F: Request Sample FOI Letters
Appendix G: Order Forms (Inserts to FOIA Requests)
Appendix H: Federal Aviation Regulations
Appendix I: Sample Request for Production—Generic and Example
Appendix J: Glossary of Aviation Terms
Appendix K: Comparison of the Effectiveness of Charts and Graphs with that of Computer-Generated Video in the Presentation of Data (Example)
Appendix L: Publications
Appendix M: Abbreviations and Acronyms
About the Editors
About the Contributors
Index
---
Share this Product
---
More from this collection