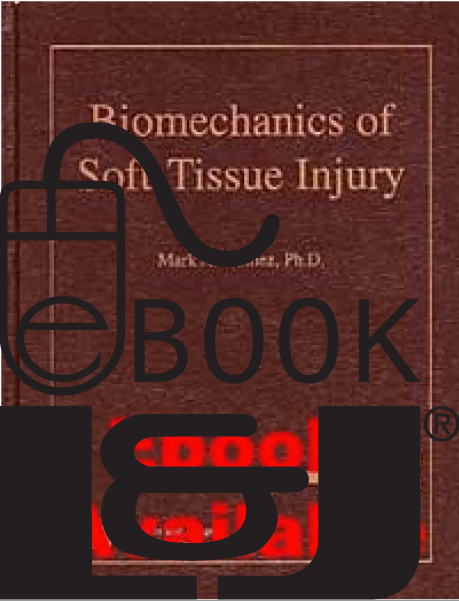 Biomechanics of Soft-Tissue Injury PDF eBook
---
This book is also available as a Kindle eBook. Click here to purchase and download:
Author:

 

Mark A. Gomez
ISBN 10:

 

0-913875-50-3
ISBN 13:

 

978-0-913875-50-6
Copyright Date Ed:

 

February 12, 2001
Pages:

 

124 pages
PDF eBook
For legal counsel, it can be a challenge to determine what type of injury occurred and just how serious the damage was to each person based on all the information provided by various experts--doctors, accident reconstructionists and police investigators. But how do you determine which parts of the body were damaged? How do you present your case? How will your expert witness prepare for trial?
By consulting with the medical and accident reconstruction experts' data about the case, a biomechanical expert determines what kind of injury pattern exists. Did the accident cause this particular injury pattern to appear? Most importantly, in Biomechanics of Soft-Tissue Injury, you'll gain an understanding of how these soft-tissue injuries happen.
You'll learn about the process of reconstructing an accidental injury in a step-by-step fashion. Discover the mechanisms of injury, based on clinical literature, basic science literature, and experimental data. Differences between muscles and tendons are addressed and depicted in figures and text. You'll read about eccentric loading, range of motions, center of rotation, and the biological response to acute injury.
In addition, you'll encounter the six steps of accidental injury analysis: step one includes a "description of the accident;" step two, an "injury pattern defined;" step three, "define loading conditions that produce injury;" step four, "injury mechanism defined;" step five, "accident reconstruction;" and step six, "accident data consolidation." The last chapter provides you with several case examples from which to work.
TOPICS INCLUDE
The process of reconstructing an accidental injury
The cervical spine
The basic components: Ligament, tendon and muscle
The thoracolumbar spine
The shoulder
The knee
Sample case work-ups
Table of Contents:
Dedication
Preface
Acknowledgments
Chapter 1: Injury Biomechanics Defined
1.1 Introduction
1.2 Vehicle Inspection
1.3 Restraint System
1.4 Inspection of the Vehicle's Interior
1.5 Scene Inspection
A. Vehicular accidents
B. Nonvehicular accidents
1. Slip and fall accidents
2. Industrial and equipment accidents
1.6. Post-Inspection Activities
1.7 Conclusion
Chapter 2: Ligaments, Tendons and Muscles
2.1 Introduction
2.2 Ligament and Tendon Anatomy
2.3 Biomechanical Properties
2.4 Physiologic Response to Injury
2.5 Muscle Anatomy and Function
2.6 Biomechanical Properties and Mechanism of Failure
Chapter 3: The Cervical Spine
3.1 Basic Anatomy of the Cervical Spine
3.2 Muscle Anatomy
3.3 Mechanisms of Injury
A. Compression injury
B. Flexion injury
C. Flexion with twisting injury
D. Flexion with compression injury
E. Extension injury
F. Extension with compression
3.4 Loads
Chapter 4: The Lumbar Spine
4.1 Basic Anatomy of the Lumbar Spine
A. Bony anatomy
B. Ligamentous anatomy
C. Muscle anatomy
4.2 Mechanisms of Injury
A. Intervertebral disc
B. Posterior ligaments
C. Extensor muscles
Chapter 5: The Shoulder
5.1 Introduction
5.2 Bony Anatomy
5.3 Ligament Anatomy
5.4 Tendon and Muscle Anatomy
5.5 Mechanisms of Injury
A. Shoulder dislocation
1. Anterior dislocation
2. Posterior dislocation
B. Rotator cuff tear
C. Impingement
D. Glenoid labrum tears
Chapter 6: The Knee
6.1 Introduction
6.2 Bony Anatomy
6.3 Articular Cartilage
6.4 Ligament Anatomy
6.5 Meniscus Anatomy
6.6 Mechanisms of Injury
A. Cruciate ligament tears
B. Collateral ligament tears
C. Meniscal tears
1. Longitudinal and bucket-handle tears
2. Horizontal and flap tears
3. Transverse tears
D. Articular cartilage
1. Blunt trauma
2. Direct trauma
Chapter 7: Examples of Injury Reconstruction
7.1 Introduction
7.2 Cervical Spine
A. Bilateral facet joint dislocation
B. Spinal cord contusion
7.3 Rotator Cuff: Tear of the Supraspinatus Muscle
7.4 Thoracic Spine: "Chance" Fracture with Tears of Posterior Ligaments
7.5 Lumbar Spine: Intervertebral Disc Herniation
7.6 Knee: Rupture of the Anterior Cruciate Ligament About the
Author
Index
---
Share this Product
---
More from this collection