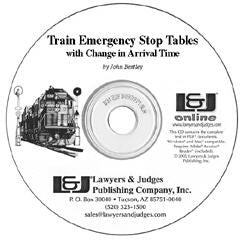 Train Emergency Stop Tables with Change in Arrival Times
---
These tables on this CD-ROM help you make decisions more easily about how to proceed in a train case. Find a train comparable to the one in your incident and learn how that train performed or should have performed.
You can see if your train could have stopped short of an object or of another train with a lower speed or earlier brake application. The program also allows you to see if your train could have delayed its arrival by an earlier brake application to avoid hitting a person or a vehicle by allowing more time for them to clear the crossing.
The equations utilized in this useful tool have been used in over 1,200 state and federal court cases in the United States.
Train configurations used:
One unit
One unit and 8 cars
One unit and 10 cars
One unit and 20 cars
One unit and 30 cars
Two units and 60 cars
Three units and 90 cars
Four units and 115 cars
---
Share this Product
---
More from this collection